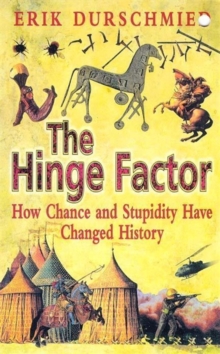 The Hinge Factor
Paperback
Description
From the wooden horse of Troy to the Gulf War, military history has been as much marked by chance and error, as by gallantry and heroism. Many conflicts have been decided by the caprice of weather, bad intelligence, heroism where it wasn't expected, or individual incompetence. In military terms, the incident which can swing a battle from victory to defeat in a moment is known as the Hinge Factor.The Hinge Factor vividly describes battles which demonstrate this phenomenon - including the circumstances behind the loss of the Holy Cross, through to the attack of African war bees in 1914, to Star-War weaponry described in the Gulf War.This enthralling book demystifies the general belief that battles are always won due to the brilliance of a general and will both inform and entertain a wide audience.
Information
Format: Paperback
Pages: 416 pages, b&w integrated
Publisher: Hodder & Stoughton General Division
Publication Date: 01/10/1999
Category: Military history
ISBN: 9780340728307
Free Home Delivery
on all orders
Pick up orders
from local bookshops
Reviews
Showing 1 - 3 of 3 reviews.
Review by wyvernfriend
16/06/2015
Exactly what it says, a non-fiction book about how sometimes luck has played a part in major battles and events. It's interesting to see how sometimes it is one person who can change fate and history.
Review by AnnaOok
16/06/2015
I didn't read all of this book: mostly I only skimmed it, because I didn't like it.Firstly, I didn't realize it was *only* about military history -- which I'm not madly interested in. Most importantly though, it contains a lot of unnecessary dramatization (that is, words put into historical characters' mouths) which confuses the issue as it's never clear what is from some reliable source and what is just made up. This really annoys me in a book about history, and I think it's very bad practice, so I feel justified in slamming the book despite having only skimmed through it.
Review by Sandydog1
16/06/2015
A great premise and a great selection of battles and major conflicts (but mostly battles; 4 1/2 stars). Crude, horribly confusing battle maps and awkward, disjointed prose. You'll get so much more from the better-written maps and articles from Wikipedia (1 star). Phony, contrived historical fiction dialogs that reminded me of those very early and poorly-funded days of the History Channel. (Remember when they'd show Pickett's Charge consisting of 6 portly 50-something re-enactors, bumbling over a split wood fence? And, they'd show some guy with a "Santy Clause" beard and gray uniform and call him General Lee? The narrative reminds me of those kind of production values - 1 1/2 stars.). Interesting obscure battles such as Tanga (1914) and interesting treatments of more well known events such as Tet. the Berlin Wall and Desert Storm (3 1/2 stars). Cryptic but interesting Bibliography (3 stars). All in all, a big amalgam of starry ambivalence.