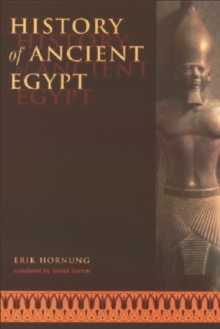 History of Ancient Egypt
Paperback / softback
Description
This is a vivid chronological history of the civilization of ancient Egypt from its foundation some 5,000 years ago to its conquest by Alexander the Great in 332 BCE, effectively the first half of written human history.
It is based on Professor Hornung's unrivalled knowledge of archaeological and documentary evidence, and provides as straightforward a story as the varied nature and extent of that evidence allows.
The book opens with a consideration of the prehistoric origins of humans ettlement of the Nile valley.
Following radical climatic change nomads, cattle-breeders and farmers, Africans and Asiatics, Semites and Hamites, came together in the two lands of the Upper and the Lower Nile. There the differentiated unity of ancient Egypt emerged and under the kings of the first two dynasties developed its characteristic high culture.
Successive chapters are then devoted to the Old, Middle, and New Kingdoms, and to the late Period, in which the histories and varied fortunes of 28 dynasties are succinctly told. The author describes the nature and evolution of the Egyptians' at times iconoclastic relations with their complex deities, and the burial practices associated with them; their sophisticated government and administration; the building and import of the pyramids and temples; and their frequently warlike relations with the Hittites, Libyans, Babylonians, Syrians and Nubians.
First published in German and long regarded as the most authoritative concise account, History of Ancient Egypt has been revised and updated by the author for the English edition.
The book contains over fifty illustrations, a chronology, a glossary, and a bibliography of primary and secondary sources, the latter divided by period.
It is fully indexed.
Information
Format: Paperback / softback
Pages: 224 pages, 50 b&w illustrations, maps, glossary, bibliography
Publisher: Edinburgh University Press
Publication Date: 15/05/1999
Category: African history
ISBN: 9780748613427
Other Formats
Hardback from £36.69
Paperback from £18.79