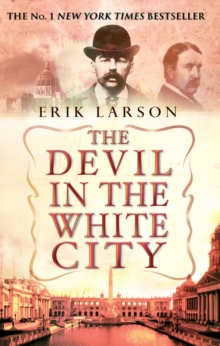 The Devil in the White City
Paperback
Description
The Chicago World's Fair of 1893 and its amazing 'White City' was one of the wonders of the world.
This is the incredible story of its realization, and of the two men whose fates it linked: one was an architect, the other a serial killer.
The architect was Daniel H. Burnham, the driving force behind the White City, the massive, visionary landscape of white buildings set in a wonderland of canals and gardens.
The killer was H. H. Holmes, a handsome doctor with striking blue eyes. He used the attraction of the great fair - and his own devilish charms - to lure scores of young women to their deaths.
While Burnham overcame politics, infighting, personality clashes and Chicago's infamous weather to transform the swamps of Jackson Park into the greatest show on Earth, Holmes built his own edifice just west of the fairground.
He called it the World's Fair Hotel. In reality it was a torture palace, a gas chamber, a crematorium.
These two disparate but driven men together with a remarkable supporting cast of colourful characters, including as Buffalo Bill, George Ferris, Thomas Edison and some of the 27 million others who converged on the dazzling spectacle of the White City, are brought to life in this mesmerizing, murderous tale of the legendary Fair that transformed America and set it on course for the twentieth century.
Information
Format: Paperback
Pages: 496 pages, B & W photos
Publisher: Transworld Publishers Ltd
Publication Date: 01/04/2004
Category: True crime
ISBN: 9780553813531
Free Home Delivery
on all orders
Pick up orders
from local bookshops
Reviews
Showing 1 - 4 of 4 reviews.
Review by bluesmom
16/06/2015
I know this is a great book for many people especially engineers. I found it amazing to read even though for me at times it was tedious. I gave only 3 stars because what this book lacked, is what is primary in my book interest, personal and relatable characters.
Review by RustyBoone
16/06/2015
Larson's thoroughly researched, remarkable story brings to life the efforts of architect and city planner Daniel Burnham to plan, build and showcase the amazing 1893 World's Fair in Chicago while chronicling the gruesome serial killings that plagued Chicago during that time. Although the sensational murders and indefatigable Pinkerton detective, Frank Geyer, who eventually solved the case make for great reading, it is the rich tapestry of characters that dreamed of and built, "The Great White City", that make this non-fiction work read like a thrilling adventure novel. 5 STARS
Review by isabelx
16/06/2015
A fascinating book about the World's Fair in Chicago and a serial killer who ran a hotel in Chicago at that time. Chicago was a boomtown and had just passed Philadelphia to become the 2nd biggest city in America. This was one source of the civic pride that caused them to bid for the right to hold the fair to celebrate the 500th anniversary of Columbus discovering the Americas. It attracted people (including single young women) from all over the country but they found Chicago to be a dangerous place, due to fires and train crashes as well as a serial killer who was able to go on killing as no-one put two and two together about the fact that all these girls were going missing while staying at his hotel.The chaotic preparations for the World's Fair reminded me of the fiasco that was the Millennium Dome (in London) - some things never change,
Review by clfisha
16/06/2015
It's a interesting premise: Take a shining light of the late 19th Century, Chicago's world fair, and juxtapose it against one of the darkest, serial killer H.H. Holmes. It almost works. Larson is an engaging writer, he knows how to weave a story and brings the alive the fairs complex creation and its fleeting existence. The historical setting is fascinating, the politics and sweeping changes, the new technologies matched against the huge ambition and the sheer unbelievable scale of it. It is place that showcased modern electricity, Ferris's new wheel, German giant machines of war, a colourful multitude of cultures and managed to entice the largest crowd the world had yet seen. The tale was simply engrossing, that Larson brings the many strands together whilst imbuing the main players with so much character is simply wonderful.But (and it is a large but) the juxtaposition fails. Serial killer H. H. Holmes story may sound fascinating: a man who built a murder hotel, a place with gas chambers and a too large a furnace in the basement, but so little is known about Holmes and so much of it hard to swallow that Larson's technique falls flat. Yes it's meticulously researched and carefully reconstructed but it feels lacklustre and often resorts to repeatedly mentioning his suave charm and cold, devilish icy blue eyes. The end chase, away from Chicago and after the fair is the most interesting but sadly feels out of place.I am not sure I would recommend this book, the fair seems to warrant more concentrated exploration but this is as good as place as any to get a glimpse. Also what is it with the lack of photos? Larson's good but not fantastic at painting the scene, all I can say is thank goodness for google