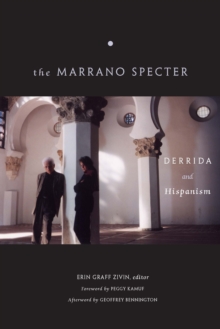 The Marrano Specter : Derrida and Hispanism
Hardback
Description
The Marrano Specter pursues the reciprocal influence between Jacques Derrida and Hispanism.
On the one hand, Derrida's work has engendered a robust conversation among philosophers and critics in Spain and Latin America, where his work circulates in excellent translation, and where many of the terms and problems he addresses take on a distinctive meaning: nationalism and cosmopolitanism; spectrality and hauntology; the relation of subjectivity and truth; the university; disciplinarity; institutionality. Perhaps more remarkably, the influence is in a profound sense reciprocal: across his writings, Derrida grapples with the theme of marranismo, the phenomenon of Sephardic crypto-Judaism.
Derrida's marranismo is a means of taking apart traditional accounts of identity; a way for Derrida to reflect on the status of the secret; a philosophical nexus where language, nationalism, and truth-telling meet and clash in productive ways; and a way of elaborating a critique of modern biopolitics.
It is much more than a simple marker of his work's Hispanic identity, but it is also, and irreducibly, that. The essays collected in The Marrano Specter cut across the grain of traditional Hispanism, but also of the humanistic disciplines broadly conceived. Their vantage point-the theoretical, philosophically inflected critique of disciplinary practices-poses uncomfortable, often unfamiliar questions for both hispanophone studies and the broader theoretical humanities.
Free Home Delivery
on all orders
Pick up orders
from local bookshops