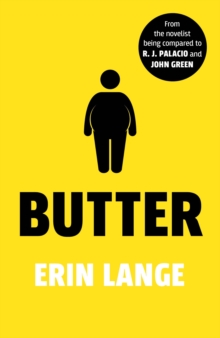 Description
I can't take another year in this fat suit, but I can end this year with a bang.
If you can stomach it, you're invited to watch ...as I eat myself to death. -Butter. Prepare to gasp, laugh and cry at one boy's journey from lonely outcast to toast of the school as he nears his dreadful deadline..."I love it.
Reminds me of John Green's - A Fault in our Stars and R J Palacio's - Wonder". (Jo, Victoria Park Bookshop). "There aren't enough words to describe how amazing this novel is". (My Heart Hearts Books). "If you've ever been bullied, read this". (Princess Bookie, Amazon.com).
Information
Format: Paperback
Pages: 352 pages
Publisher: Faber & Faber
Publication Date: 01/03/2013
Category: General
ISBN: 9780571294404
Free Home Delivery
on all orders
Pick up orders
from local bookshops
Reviews
Showing 1 - 1 of 1 reviews.
Review by ArkhamReviews
16/06/2015
I have really mixed feelings regarding Butter.It's a very memorable and unique novel that touches on a number of difficult themes - particularly cyber bullying and the fact that you can by complicit in something even if you do not actively take part - but I just found it impossible to become emotionally invested with the lead.I really felt as though I should sympathise with him - he is so witty and intelligent and it is tragic that no one can see past his weight - but his jaded world view and various actions throughout the novel just made it hard for me to like them. Butter hates people judging him yet his judges everyone else on their appearance. He is jealous of Tucker's weight loss yet makes no effort to lose any of his own. Not to mention the fact that he essentially stalks Anna. It is really difficult to empathise with him when we can see him gradually breaking his crush's heart.On top of this is the premise. While I accept that peer pressure is a problem in high school, the degree that it goes to in this novel is too extreme. Out of the entire school, nobody notifies a teacher or parent about Butter's suicide threat? I could buy a smaller group but it is tough to swallow that an entire school would be so callous.At least the novel was a fairly quick and light read so it never felt as though it dragged on, but I have read better novels of this genre.
Also by Erin Jade Lange