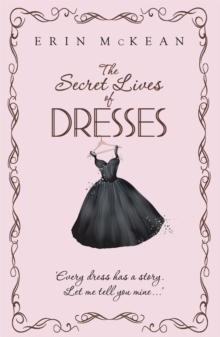 The Secret Lives of Dresses
Paperback
Description
'Every dress has a story. Let me tell you mine...'Dora is in love with a man who barely notices her, has a job she doesn't care about, and dresses entirely for comfort, not style.
All a far cry from her vivid, eccentric childhood, growing up with her beloved grandmother Mimi.
However, when disaster strikes, Dora knows she has no choice but to return to her childhood home and take over running Mimi's vintage clothing shop. And there she makes a surprising discovery - Mimi's been writing stories to accompany every dress she sells.
Romantic, heartbreaking tales about each one's secret life before it got to her shop...Dora starts to matchmake these lonely frocks with new owners, but will the stories help her as well?
Trading her boring high street clothes for vintage glamour is one thing.
What she needs to know is whether she can trade her safe old life - and love - for something better too?
A captivating and enchanting novel for every girl who knows that the right dress can change your life.
By the author of the popular blog www.dressaday.com.
Information
Format: Paperback
Pages: 384 pages
Publisher: Hodder & Stoughton General Division
Publication Date: 01/01/2011
ISBN: 9780340993231
Free Home Delivery
on all orders
Pick up orders
from local bookshops
Reviews
Showing 1 - 4 of 4 reviews.
Review by mrn945
16/06/2015
I was hoping that this would be like A Vintage Affair, however it was not nearly as good.The premise behind the book was solid. Dora was orphaned as a young girl and raised by her grandmother. As such, they are quite close. Despite this fact, Dora and her grandmother have had their problems. Dora has always insisted on living her own life, dancing to her own tune. When her Grandmother gets sick, Dora moves home to take over her Grandmother's vintage dress shop. Obviously she learns some things about herself during the novel, and eventually comes to the conclusion there her Grandmother was right all along.As said, the premise was solid. The execution was a little off though. I liked the main characters, and the secondary characters were interesting without being distracting. I liked the fact that her Grandmother had a vintage dress shop, although little was actually said about the clothes. What I didn't like though was the dress stories.One of the twists the author threw in was these little stories about the dresses, about the former lives of the dresses. While this could have been really cute, I felt like the stories interrupted the flow of the novel and added nothing to the plot or character development. Further, while the rest of the novel was well-written, these little stories felt disjointed. The novel would have been significantly better without this extra little stories.So, I find myself not able to really recommend this book. It was simply ok.
Review by dieseltaylor
16/06/2015
Adequate romance. Requisite death of loved Grandma to bring heroine and hero together. The heroine, Dora[?], seems to have complete lack of interest in her parents, lost when she was a baby, does seem far-fetched. Unfortunately the characters all seem overdrawn to my taste. The bad are very bad etc but perhaps the author knows her target market require everything to be made black and white because that is what US TV and films accustom people to.The love of clothes does shine through : )
Review by srearley
16/06/2015
I read this, but forgot to mark it in GoodReads. Enjoyed it quite a bit, it was very sweet and fun.
Review by bonniemarjorie
16/06/2015
I stumbled upon this book and decided to take a chance on it... am sure glad I did. This was a very light hearted story that I was able to finish in a day because I was so drawn by the story. It was a bit typical of a story, sure, but the signature little touches that the author added were fantastic. Definitely worth the read.