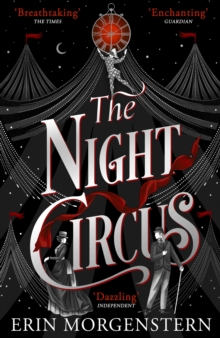 The Night Circus
Paperback
Description
'Playful and intensely imaginative, Erin Morgenstern has created the circus I have always longed for.
This is a marvellous book' Audrey Niffenegger, author of The Time Traveler's WifeThe circus arrives without warning.
No announcements precede it. It is simply there, when yesterday it was not. The black sign, painted in white letters that hangs upon the gates, reads:Opens at NightfallCloses at DawnAs the sun disappears beyond the horizon, all over the tents small lights begin to flicker, as though the entirety of the circus is covered in particularly bright fireflies.
When the tents are all aglow, sparkling against the night sky, the sign appears. Le Cirque des RevesThe Circus of Dreams. Now the circus is open. Now you may enter.
Information
Format: Paperback
Pages: 512 pages
Publisher: Vintage Publishing
Publication Date: 01/05/2012
ISBN: 9780099554790
Other Formats
Paperback from £7.09
EPUB from £4.99
Free Home Delivery
on all orders
Pick up orders
from local bookshops
Reviews
Showing 1 - 5 of 10 reviews.
Previous | Next
Review by emmakendon
16/06/2015
To be fair, I couldn't really put this down, it was an enjoyable conceit and the characters interesting enough to keep me caring what happened. So the ending's a disappointment - it could have done with being more profound rather than extolling the wonder of the story-teller as magician and then going all-out on marketing (an email address in the text - I won't be trying it out).So saying, I only read it because I wanted an illustration of a circus clairvoyant in action, and Isobel sufficed. Incidentally, as part of the marketing around this, it transpires Ms Morgenstern designed some tarot cards, and they're rather tasteful, as is the book and as, certainly, is the circus and all involved in it. I think I was set up for God and the Devil testing Job, and so that's what made it disappointing.
Review by passion4reading
16/06/2015
A good, but not a great book, the thing I found most compelling was the circus: the sheer scope of imagination to build it in one's mind immense yet effortless and addressing all my senses. In my opinion it would have worked better had it been 100-150 pages shorter; there were definite lengths in the middle of the book where it didn't hold my attention.
Review by Helenliz
16/06/2015
This is based on a circus - a magical circus of dreams that opens at nightfall until dawn. And at that point I probably should have shut the book there and then. I'm not adverse to fantasy and imagination - but it has to be believable and anything that hnestly relies on magic to run fails to fall into that category. But I carrried on and read it anyway. It wasn't awful, with the core of the story being a competition between a master and his pupil, who each pits a trainee in a challenge. Only this isn't a challenge that is there to be won or lost, the challenge only ends when one protagonist ceases to endure. And when the two challengers fall in love that's an end game that is bound to end in tears. It actually doesn;t end all that badly, but there's a whole load of love and grief bound up in the story and the conclusion. It's a good story, but it wasn't my thing.
Review by charlottejones952
16/06/2015
Some books get you with a beautifully designed cover – embossed typography, a simple colour-scheme, delicately drawn illustrations, with an air of elegance and quality that you can't quite put your finger on.<br/><br/>Some books grab you with a synopsis so intriguing and in so few words that you can't help but take a peek inside.<br/><br/>Some books capture your imagination and interest with the first few lines of the first chapter, hooking you in with it's mystery and exquisite writing style.<br/><br/>This book does all three.<br/><br/>Many people have been talking about this book since it's release in 2011, and inevitably, due to it's basis in magic, it has been compared throughout the past two years to J.K.Rowling's 'Harry Potter'. After reading this book, I don't agree with the comparison – 'The Night Circus' is a magical book in it's own right and I think builds a completely different type of mystery within the pages.<br/><br/>This book is beautifully designed, from the simple silhouetted figures on the over to the black and white designs on the start pages of each part within the book, the theme of the Night Circus itself is carried into the physical form of the book, drawing in the reader in a more intense and believable way.<br/><br/>If you like a non-linear time-line, then this is the book for you. Personally, that is something that I have never read before and although it seemed slightly daunting at first, it made the story a lot more immersive, revealing parts of the mystery steadily within each characters' plot and time-line. Each chapter focusses on different sets of characters that are interwoven into each others lives in such a seamless way that it doesn't seem forced at all.<br/><br/>'The Night Circus' has that magical quality about it that you only get in fairy tales – the characters are each unique, each with their own secrets and personalities, making this a deep and enchanting novel.<br/><br/>At just under 500 pages, this is a relatively lengthy novel, but time flies as you are reading it, the story drawing you further and further into the world of the Night Circus.
Review by shirleybell
16/06/2015
To start with I found this a little disjointed, and I wasn't sure why it was necessary to keep hopping around in time. However, as I continued reading, I began to warm to the characters and the story and enjoyed the second half more than the first. I think this may even improve on a second reading but it didn't quite live up to all the hype for me, although I have given it 3 stars, as it was an enjoyable read.
Also by Erin Morgenstern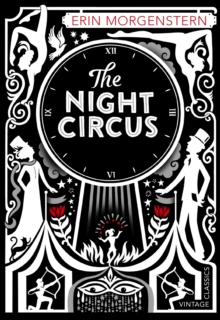 Also in the Vintage Magic series | View all