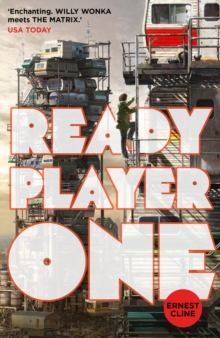 Ready Player One
Paperback
Description
SOON TO BE A MAJOR MOTION PICTURE DIRECTED BY STEVEN SPIELBERGIt's the year 2044, and the real world has become an ugly place.
We're out of oil. We've wrecked the climate. Famine, poverty, and disease are widespread. Like most of humanity, Wade Watts escapes this depressing reality by spending his waking hours jacked into the OASIS, a sprawling virtual utopia where you can be anything you want to be, where you can live and play and fall in love on any of ten thousand planets. And like most of humanity, Wade is obsessed by the ultimate lottery ticket that lies concealed within this alternate reality: OASIS founder James Halliday, who dies with no heir, has promised that control of the OASIS - and his massive fortune - will go to the person who can solve the riddles he has left scattered throughout his creation.
For years, millions have struggled fruitlessly to attain this prize, knowing only that the riddles are based in the culture of the late twentieth century. And then Wade stumbles onto the key to the first puzzle. Suddenly, he finds himself pitted against thousands of competitors in a desperate race to claim the ultimate prize, a chase that soon takes on terrifying real-world dimensions - and that will leave both Wade and his world profoundly changed.
Information
Format: Paperback
Pages: 384 pages
Publisher: Cornerstone
Publication Date: 01/04/2012
ISBN: 9780099560432
Other Formats
eAudiobook MP3 from £9.60
EPUB from £4.99
Free Home Delivery
on all orders
Pick up orders
from local bookshops
Reviews
Showing 1 - 5 of 6 reviews.
Previous | Next
Review by sturlington
16/06/2015
This book has a terrific hook. It is set in the near future. The wealthy creator of a virtual reality universe that everyone now uses to escape their miserable lives in the real world has died, and in a posthumous video, he has announced a challenge. Whoever finds the Easter egg he has hidden in his virtual world will inherit his billions and control of his company. As a certifiable geek who grew up in the '80s, he has hidden clues to the egg's location based on the games, movies and music of his youth.Five years has gone by, and no one has found the first clue. Until Parzival, the story's narrator, announces that he has solved it and is the first person to get on the scoreboard of the most high-stakes video game of all time.Ready Player One is a modern-day version of Charlie and the Chocolate Factory. It's an adventure, a mystery and an edge-of-your-seat, read-it-as-fast-as-you-can thriller. It also captures perfectly the innocent flavor of the '80s kids movies that it references, such as War Games and The Goonies. As a child of the same era, I enjoyed the references and the overall feel of the book, although since I am not a gamer, I got somewhat bogged down in that aspect of it. If you are both a gamer and a pop culture geek, you will love this book.
Review by infjsarah
16/06/2015
I am not a computer game player but I did grow up in the 1980s and I've always been a sci-fi / fantasy fan. And I loved this book. The idea is not particularly original (Tad Williams wrote Otherland years before Facebook was launched) but the execution worked brilliantly. I will be recommending this to a couple of people in RL.
Review by mexicaneagle
16/06/2015
A hagiography of 80's computer games and popular culture loosely held together by a basic but functional plot. Nostalgically enjoyable.
Review by wolfma
16/06/2015
unterhaltsam, und kurzweilig, mit vielen referencen in die Pop-Kultur der 80er. Im Buck kommen die sozialen Auswirkungen dieser virtuellen Realitaet zu kurz, es geht nur um diesen Wettbewerb innerhalb der virtuellen Welt. Das diese virtuelle Welt evt die Ursache fuer die realen Problem in der Welt ist, wird angedeutet, aber nicht weiter verfolgt.es bleibt ein unterhaltsames Buch, man darf halt keine kritische bewertung des sozialen umfeldes erwarten
Review by eleanor_eader
16/06/2015
The eighties were my playground, but I was not a gamer, nor American, so vast swathes of the nostalgia in <i>Ready Player One</i> was unhelpful to me, and the dystopian reality, for which I picked up the book, barely addressed (although I greatly enjoyed the section where the protagonist, Wade, is willingly indentured to the villainous corporation). Still, I have played a <i>few</i> point-and-click adventures and old arcade games, so I was able to 'play along' so to speak.Still, even granting that I'm not the target audience, the I-did-this-then-that straightforward style of writing was a plod for me. I've read tons of YA fiction, finding most of it engaged my imagination, and a lot of it absolutely riveting, but Ernest Cline seemed to set the most unchallenging storytelling tone he could find and refused to find another gear no matter what was happening. Other reviewers have mentioned the cardboard cut-out characters, which is another flaw that bothered me, and the wish-fulfilment inherent throughout the entire novel was laid on thick.It did have one strength that kept me reading until the end, however; the challenge set for Wade (or his avatar, Parzival), was interesting enough to follow and even get invested in. It didn't aspire to the heights of <i>The Hunger Games</i> or <i>Ender's Game</i> but the spirit of gaming did nevertheless abide within the pages.