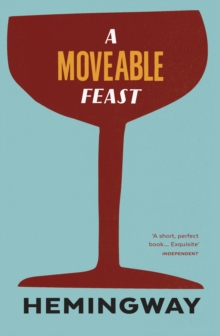 A Moveable Feast
Paperback
Description
Hemingway's memories of his life as an unknown writer living in Paris in the twenties are deeply personal, warmly affectionate and full of wit.
Looking back not only at his own much younger self, but also at the other writers who shared Paris with him - James Joyce, Wyndham Lewis, Scott and Zelda Fitzgerald - he recalls the time when, poor, happy and writing in cafes, he discovered his vocation.
Written during the last years of Hemingway's life, his memoir is a lively and powerful reflection of his genius that scintillates with the romance of the city.
Information
Format: Paperback
Pages: 192 pages
Publisher: Vintage Publishing
Publication Date: 05/10/2000
Category: Biography: general
ISBN: 9780099285045
Other Formats
Paperback from £5.59
EPUB from £6.99
eAudiobook MP3 from £15.08
Free Home Delivery
on all orders
Pick up orders
from local bookshops
Reviews
Showing 1 - 5 of 9 reviews.
Previous | Next
Review by StuartAston
16/06/2015
I had never read Hemingway before so thought a small book would be something to try and see if I enjoyed it.Turns out I picked an Auto-biography of his time in the 20's in Paris where he was starting out as an unknown. You get the atmosphere on Paris in the 20's and the cliques that existed of the in crowd and the writers and the painters. You see that even then distractions existed for the famous but, as was life, were simpler than those of today.No laptops to write with just pen and paper and the local cafe to sit in Hemingway paints the picture of a Paris which once it has you will not let you go. And people who are interesting but have something held back that keeps you wondering.As well as learning about his life in those early years it is a book from which you can pick up his style of writing. And I can say now it will lead me to read more.
Review by lisapeet
16/06/2015
My god, they were so <i>young</i>. I mean, I know this intellectually, but to read this is to really get the full sense of literary boyishness. Your 20s are your 20s no matter what era, no matter which arondissement, and there is something very sweet about this book for just that reason. Boys bragging, boys fronting, boys writing. The whiff of youthful exuberance here is a little intoxicating, feels good; this is well worth reading, or rereading. I'm glad I didn't even think about the updated version.This is a hardcover I bought for $2 or $3 on the street in 2009 or so, but I'd never looked inside until I opened it to read. I noticed that it had the original Book-of-the-Month Club insert inside, so I checked the front matter and hey! -- looks like I've got myself a first American BOMC edition (it came out in London a bit earlier in 1964). Not worth much, and it's in pretty lowly shape, but that still made me happy, and gave it a little extra gravitas.
Review by Firecrackerscribe
16/06/2015
Man, I always forget how much I love Hemingway until I start reading one of his great works. Some of the prose in this is just amazing. I forgave him for the moments of complete self indulgence because it was so easy to get wrapped up in the romance of it all. Mmmm...Hemingway.
Review by Fernhill
16/06/2015
A good book and true. Read in conjunction with The Paris Wife, they fit nicely together. Best chapters are about Schuns and several about f Scott.
Review by sageness
16/06/2015
GLBT interest tag is for Sylvia &amp; Adrienne and Gertrude &amp; Alice; for Hem's &amp; Gertrude's homophobia concerning male sexual predators; for confusing predators with non-predator queer people; and for scads of intimate contact with Scott Fitzgerald.<br/><br/>Is it bad that now I want to read fic where Hem &amp; Scott were together? Where is the AU where Hem took Scott skiing in Austria and they spent weeks skiing, writing, drinking, etc. Someone should write that.<br/><br/>Interesting: his description of Gertrude's "You're all a lost generation" as her tirade at a WWI veteran motor mechanic refusing to skip her ahead in the line for car repairs. Only later did it become "literary".<br/><br/>Sexism aside, I'm very fond of Hem. Sure, sometimes I want to throw him off a cliff, but I've always loved adventure stories.