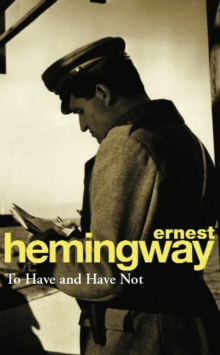 To Have and Have Not
Paperback
Description
Harry Morgan was hard - the classic Hemingway hero - rum-running, gun-running and man-running from Cuba to the Florida Keys in the Depression.
He ran risks, too, from stray coastguard bullets and sudden double-crosses.
But it was the only way he could keep his boat, keep his independence, and keep his belly full... This classic novella was turned into a brilliant film by Howard Hawks - the film in which Humphrey Bogart and Lauren Becall met - and remains an important work by one of the greatest American novelists of the twentieth century.
Information
Format: Paperback
Pages: 192 pages
Publisher: Cornerstone
Publication Date: 18/08/1994
ISBN: 9780099909002
Other Formats
Paperback from £6.65
eAudiobook MP3 from £15.08
EPUB from £7.99
Free Home Delivery
on all orders
Pick up orders
from local bookshops
Reviews
Showing 1 - 2 of 2 reviews.
Review by soylentgreen23
16/06/2015
"To Have and Have Not" is one of the strangest works by Hemingway that I've come across, and I've even read his first work, "The Torrents of Spring;" and that was pretty strange.It's hard to describe the book. It's rugged like its principal character, a gun runner working the route from Cuba to Florida. It's a book void of happiness or relief, and feels downright angry at times - making it a very powerful work.
Review by AndrewBlackman
16/06/2015
The original New York Times review in 1937 put it this way: "Mr. Hemingway has been for some years an outstanding figure in American literature; he has influenced greatly men a little younger than himself, and they have paid him the tribute of imitation. Whatever he does is of interest because he has, unquestionably, a very real talent. What has he done with it in To Have and Have Not?"It's a good question, and one that hasn't really been answered in the 70 years since then. Some have said Hemingway hated the book himself and only wrote it to fulfil some kind of contractual obligation. But how could he be contractually obliged to write an awful book? Even if somebody did set the subject matter, surely he could have produced something better than this?The main problem with the book is that it is schizophrenic. It's a cross between an adolescent high-seas adventure story and a social analysis of the effects of the Great Depression. Even if both could be crammed into one book, it's probably safe to say that fans of one genre are unlikely to be fans of the other.The writing style, too, is schizophrenic, lurching from first person to third person, from one character's point of view to another's. Harry Morgan's character, too, changes. He starts out as a hard-drinking, hard-fighting Hemingway hero, but later on, as the whole idea of the book seems to change midstream, he becomes more of a Steinbeck-style poor old victim of the system. His wife and children then appear in the book, looking as if they have been grafted on to make him appear more sympathetic. Then rich people start to appear, being vile and self-obsessed but never fully drawn as characters. Their only role appears to be to act as "haves" to contrast against the "have nots".Another major problem I had with the book was its racism. You could argue that Hemingway was showing his characters to be racist, but still the constant, overwhelming use of words like "nigger" and "chink" really shocked me and immediately put me off the book. And worse than the words themselves were the way the characters of other races were described as objects more than people, with no characters beyond crude racial stereotypes like lazy blacks and untrustworthy Chinese. They are hardly ever even given names, but just referred to by their race: "the [insert racial slur] said...." Well, I suppose every good writer has a clunker. I still like Hemingway's writing, particularly in For Whom the Bell Tolls. So this book did teach me one thing: don't judge an author by one book alone. If this had been my first Hemingway book, I'd probably never have read another, and as a result I'd have missed out on some fantastic writing.