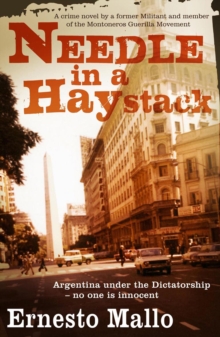 Needle in a Haystack
Paperback
Description
Superintendent Lascano is a detective working under the shadow of military rule in Buenos Aires in the late 1970s.
He is sent to investigate the discovery of two bodies but when he arrives at the roadside crime scene he finds three.
Two are clearly the work of the junta's death squads, and so should not be investigated by the police, but the other one seems different.
Lascano follows the trail, leading the reader on a tour of a Buenos Aires poisoned to the core by the military regime.
Lascano must navigate gingerly among characters symbolic of an Argentina that has lost its way: Amancio, whose privileged upbringing makes him unable to deal with the collapse of his fortunes; Biterman, the miser, embittered beyond hope by his experiences in Nazi Germany; Eva the young radical, condemned to a life on the run, death or exile, but forced to take refuge with a cop; Giribaldi, the army major, quick to help old friends, but cruel and contemptuous of everyday civilians.
Buenos Aires, corrupted by the military regime, is as important a character as any other. Lascano must uphold the law among the people and turn a blind eye to the actions of the regime, trying to bring justice to an unjust society, where some crimes are for investigation, others are not.
Of course, the crime he investigates in Needle in a Haystack turns out to be one of those he should not.
Information
Format: Paperback
Pages: 227 pages
Publisher: Bitter Lemon Press
Publication Date: 01/06/2010
ISBN: 9781904738565
Free Home Delivery
on all orders
Pick up orders
from local bookshops
Reviews
Showing 1 - 4 of 4 reviews.
Review by monica67
16/06/2015
I started reading this without high hopes. I thought I'd soon put it down. Instead I was drawn into the story. I'm trying to pinpoint why. The style and voice are unusual. It is written in -- or translated into -- the present tense, which threw me off at first, but that lasted only a page or so. Mainly, the opening of the story made me curious. As the story progressed, it revealed its secrets slowly, without indulging in backstory before its time. It gave just enough to want to know more. So I kept reading.But soon, I found the number of characters introduced a bit overwhelming. I couldn't see exactly where the story was going, nor did I have a handle on the characters. Slowly, we learn more about them, such as when it's revealed that Eva is an operative. It was almost as an aside. What interests me is that it's written in omniscient POV. When I read Dune, that was a big problem for me. I find that POV annoying -- it feels like head-hopping -- and I thought it kept me from feeling close to any of the characters. In this case, I don't think the omniscient kept me at a distance from the characters. I got inside their heads and felt a connection with them. It still felt like head-hopping, though, especially when the thoughts switched between characters in a single paragraph. This is my problem with omniscient POV. When I start a scene, I orient myself through the character who starts the scene, who obviously has the POV. To have to repeatedly change that is disorienting, and as a result, I get pulled out of the story on a regular basis.The major complaint I have is how the author structured the dialogue. It's in italics, without quotation marks, which just on a subconscious level I think is disorienting (makes me think it's internal dialogue). But what's worse is each speaker doesn't get his or her own line. You basically have to guess who's speaking and when the other speaker starts speaking. No tags, no breaks. Just a paragrah of italic text. It's extremely confusing and forces the reader to do some detective work to figure out what's going on.Even more puzzling: Only at about page 100, did I figure out that chapter one was actually a prologue of sorts. The next chapter went back in time to before the murder, but there was no indication of this whatsoever. I can't imagine why an author would do that. At chapter fifteen, we get to the point in chapter one, when the man is killed and his body dumped where he was found in chapter one. It does say something that in the fourteen chapters in between, there was so little attention paid to the the murder the detective was supposed to be investigating, that I sort of forgot about it. Those chapters developed the various characters, mixing backstory with events happening at the time. The characters are multi-faceted and often surprising. But the structure of the story is bewildering. You should not find out more than halfway through the book that you'd stepped back in time at the beginning.In the end, while an intiguing story, it meandered a bit much. Many events seemed unrelated. Many characters were peripheral with little connection to the main plot. Such as Giribaldi's wife & the baby. What was the point of that? I'm finished, but I'm not entirely sure what happened.
Review by rkreish
16/06/2015
"Needle in a Haystack takes place in Argentina in 1979, during the Dirty War where the military junta leading the country disappeared thousands of alleged subversives. The case at the center of this novel begins when Superintendent Lascano is called to investigate two dead bodies, but he finds three dead bodies instead: two were obviously executed by the military, but the third is a different sort of murder. The murder investigation does not take up the bulk of the novel. Instead we jump back in time to meet all the characters who are involved in the crime and the investigation.<br/><br/>The set-up is interesting: how do you work as a homicide detective under a regime that cuts off investigations of murders it itself commits? How do you fulfill your mission then? The setting is absolutely nightmarish: military patrols, people yanked from their homes, and murders. Mallo details the corruption throughout the society, from the criminal justice system, the military, and the church.<br/><br/>Besides the handicap of working for the police in a totally corrupt and violent regime, Lascano is also battling depression after the death of his wife less than a year before. He's a damaged individual. He's not the only character with a rough past: his friend Fuseli the pathologist is also a widower who also lost a child. It's a book full of people with difficult pasts living under the military regime. Because it's such a brief book (coming in under 200 pages), I don't want to give away much more about the characters and the plot. Though it's a short book, Mallo develops everyone's backstory pretty thoroughly.<br/><br/>Needle in a Haystack is my favorite book of the year by far, and I'm happy to know that there are two more books in the trilogy awaiting me: Sweet Money and Men Have Done You Wrong. Sweet Money has already been translated into English, and Men Have Done You Wrong (Los hombres te han hecho mal) was published in Spanish in 2012."
Review by bsquaredinoz
16/06/2015
In 1976 Argentina's Dirty War had begun and its environment of state-sponsored illegal arrests, torture, killing and forced disappearances provides a brutal backdrop for what would otherwise be a simple tale of a policeman investigating a murder. Superintendent Lascano is asked to follow up on a report of two bodies being found but when he arrives at the site there are three bodies. Two are of young people who were clearly killed by the Junta's death squads and their deaths will not be investigated further but the third body is an older man's which appears to have nothing to do with the others. It is this death that Lascano decides to investigate and he learns it is the body of an Auschwitz survivor who is now an almost universally loathed money-lender.<br/><br/>I have ranted at length about the enormous (seemingly unedited) tomes that are produced in such numbers these days so it is worth noting that I did a little happy dance when I opened this book on my eReader and found it to be 192 pages short. If anyone needs evidence that an engaging, thoughtful story can be told in less than a house brick sized lump they need look no further than the rather haunting <i>Needle in a Haystack</i>. Told from the perspective of several different characters and not in chronological order, the story comes together as a kind of literary jigsaw puzzle with some pieces being found early and having to lie on the table for a while, awaiting their connecting pieces to appear before the full picture could become clear. The book's snappy length enabled this to be a very successful storytelling mechanism.<br/><br/>There are very memorable characters here, both good and evil. Lascano is a widower who has struggled to come to terms with his wife's death and the scenes describing his home, from which nothing of hers has been removed, are sad but very credible. His determination to his job, in the face of widespread corruption and overt threats is also credibly portrayed. Some of the most memorable characters have only fleeting appearances, like the General's wife who thinks the baby she has adopted hates her, but they are all beautifully drawn.<br/><br/>I must admit I found the long blocks of italicised text which eschewed quotation marks and other punctuation a little off-putting as they slowed down my reading pace and I'm still not sure what the format was meant to add to the story. Also the sex scene which spoke of Lascano's 'sex being reborn and wanting to fly' just made me laugh and the schmaltzy tone of the whole scene seemed out of place with the rest of the book. Overall though these are minor quibbles about an excellent book which is both a sound mystery and an unsentimental depiction of what must have been a horrifying time to live through.
Review by Condorena
16/06/2015
This story is intense, dark and frightening. Mallo brings terror to the reader as he describes life in an unlivable place. Most people don't have to live with the sense they might be murdered by nightfall regardless of how innocent of wrong doings they are, unless of course they lived in Argentina in the seventies. <br/><br/>This is one story I was glad to finish and get back to my own world of relative safety.
Also by Ernesto Mallo