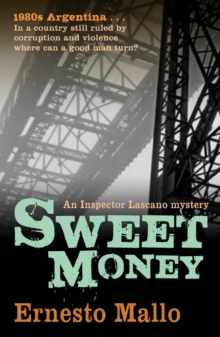 Description
Superintendent Lascano is drawn into a war between the Buenos Aires Chief of Police and the Apostles, drug-dealing cops who want to control the city.
When the Chief of Police is murdered Lascano becomes the Apostles' next target.
His only way out of the country is to retrieve the loot from a bungled bank robbery.
Mallo paints a scathing portrait of Argentina where the Junta's generals are paraded in court in civilian clothes, treated like mere petty thieves.
The mothers and grandmothers of The Plaza de MayoA" see the people who have stolen their children go unpunished; corruption and violence continue to rule.
But at the centre of the novel is a touching portrayal of two broken men, a cop and a robber, whose humanity is sorely tested by the times and events racking this proud country.
Information
Format: Paperback
Pages: 267 pages
Publisher: Bitter Lemon Press
Publication Date: 01/06/2011
Category: Crime & mystery
ISBN: 9781904738732
Free Home Delivery
on all orders
Pick up orders
from local bookshops
Reviews
Showing 1 - 3 of 3 reviews.
Review by MarkPSadler
27/01/2016
When Mole Miranda is released from jail he pledges to never again rob banks and to go home to his wife and child. After all, his cohort in the crime has been keeping the money safe, right? When it is revealed that the lovely young daughter of his friend has been diagnosed with cancer and all the money has been used for her treatment Mole decides one last job is in order. <br/>Mallo brings us in to the dubious character painting him at once wretched and loveable, and in fact by the time you think that he is the protagonist along comes former superintendent Lascano, a man left for dead and who has even been replaced on the police force so that he has become persona non grata. Not a bad place he surmises, since it is the corrupt cops on the force that had originally done him in anyway.<br/>Like Orwell before him, Mallo is one that believes to be successful you don't follow the norm, in fact, break any of these regular rules. All dialogue takes place is a separate paragraph, all run together, and written in italics. For a speed reader like me it takes an immense amount of concentration to read each sentence and figure out when the other party is talking. More than a little confusing. Luckily for Mallo is does not detract from either the plot or the eloquent language that this fine work of art is written in.<br/>When female problems and money become a common denominator the former criminal and the former cop find their paths crossing at every occasion possible to the point that they cannot deny the bond that has developed and the liking they have for each other. With the final scene you find yourself whistling the theme song "The Girl from Ipanema" and visions from an old Bogart movie dance before your eyes. All in all, a most satisfying read. <br/>
Review by MarkPSadler
27/01/2016
When Mole Miranda is released from jail he pledges to never again rob banks and to go home to his wife and child. After all, his cohort in the crime has been keeping the money safe, right? When it is revealed that the lovely young daughter of his friend has been diagnosed with cancer and all the money has been used for her treatment Mole decides one last job is in order. <br/>Mallo brings us in to the dubious character painting him at once wretched and loveable, and in fact by the time you think that he is the protagonist along comes former superintendent Lascano, a man left for dead and who has even been replaced on the police force so that he has become persona non grata. Not a bad place he surmises, since it is the corrupt cops on the force that had originally done him in anyway.<br/>Like Orwell before him, Mallo is one that believes to be successful you don't follow the norm, in fact, break any of these regular rules. All dialogue takes place is a separate paragraph, all run together, and written in italics. For a speed reader like me it takes an immense amount of concentration to read each sentence and figure out when the other party is talking. More than a little confusing. Luckily for Mallo is does not detract from either the plot or the eloquent language that this fine work of art is written in.<br/>When female problems and money become a common denominator the former criminal and the former cop find their paths crossing at every occasion possible to the point that they cannot deny the bond that has developed and the liking they have for each other. With the final scene you find yourself whistling the theme song "The Girl from Ipanema" and visions from an old Bogart movie dance before your eyes. All in all, a most satisfying read. <br/>
Review by MarkPSadler
27/01/2016
When Mole Miranda is released from jail he pledges to never again rob banks and to go home to his wife and child. After all, his cohort in the crime has been keeping the money safe, right? When it is revealed that the lovely young daughter of his friend has been diagnosed with cancer and all the money has been used for her treatment Mole decides one last job is in order. <br/>Mallo brings us in to the dubious character painting him at once wretched and loveable, and in fact by the time you think that he is the protagonist along comes former superintendent Lascano, a man left for dead and who has even been replaced on the police force so that he has become persona non grata. Not a bad place he surmises, since it is the corrupt cops on the force that had originally done him in anyway.<br/>Like Orwell before him, Mallo is one that believes to be successful you don't follow the norm, in fact, break any of these regular rules. All dialogue takes place is a separate paragraph, all run together, and written in italics. For a speed reader like me it takes an immense amount of concentration to read each sentence and figure out when the other party is talking. More than a little confusing. Luckily for Mallo is does not detract from either the plot or the eloquent language that this fine work of art is written in.<br/>When female problems and money become a common denominator the former criminal and the former cop find their paths crossing at every occasion possible to the point that they cannot deny the bond that has developed and the liking they have for each other. With the final scene you find yourself whistling the theme song "The Girl from Ipanema" and visions from an old Bogart movie dance before your eyes. All in all, a most satisfying read. <br/>
Also by Ernesto Mallo