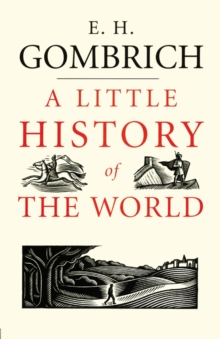 A Little History of the World
Paperback
Description
E. H. Gombrich's bestselling history of the world for young readers tells the story of mankind from the Stone Age to the atomic bomb, focusing not on small detail but on the sweep of human experience, the extent of human achievement, and the depth of its frailty.
The product of a generous and humane sensibility, this timeless account makes intelligible the full span of human history.
In forty concise chapters, Gombrich tells the story of man from the stone age to the atomic bomb.
In between emerges a colorful picture of wars and conquests, grand works of art, and the spread and limitations of science.
This is a text dominated not by dates and facts, but by the sweep of mankind's experience across the centuries, a guide to humanity's achievements and an acute witness to its frailties.
Information
Format: Paperback
Pages: 304 pages, 40 b-w illus.
Publisher: Yale University Press
Publication Date: 19/08/2008
Category: General & world history
ISBN: 9780300143324
Free Home Delivery
on all orders
Pick up orders
from local bookshops
Reviews
Showing 1 - 5 of 13 reviews.
Previous | Next
Review by yufufi
16/06/2015
As another reviewer said this is not a book of facts. There are many misleading statements in the book; the author is definitely not trying to be objective. For instance the Ottoman Empire is barely mentioned in the book which is weird given that they were a major player in the world history between 14th and 19th centuries. If you want to read a book about history of the world I'd recommend looking for another one.
Review by woodge
16/06/2015
This popular book has been around for many years in over a dozen languages but it has only recently been translated to English. (The reason why is explained in the preface.) Mr. Gombrich originally published this book in Vienna in 1936. It is written for a younger audience which results in a clear, engaging narrative. There are 40 short chapters which include sections on: Ancient Greece and Egypt, the Roman Empire, Alexander the Great, Genghis Khan, Jesus, Mohammed, the Middle Ages, the Crusades, Charlemagne, Martin Luther, Napoleon, and so forth up to World War I. Then in the final chapter, the author talks about his experiences during World War II and his hopes for peace. It is a fascinating book, covers a lot of ground, and made many areas of history much clearer for me to understand. I highly recommend it to anyone curious about world history.
Review by TPauSilver
16/06/2015
Now, the first thing to say is that I'm not a historian so can only comment on this book as someone who doesn't know a lot of history and wants to learn more. I picked this up as a kind of gateway book, if that's not a strange term to use, to give me a nice overview of the subject before I started probing specific area in any depth, and I did enjoy the book. I think the book is very readable, especially to the young audence it was intended for. The informal tone and direct adress to the audience create, rather then the feeling of a textbook, the feeling of a series of history lessons given to you by a favourite uncle or something similar. Even I can tell you that this book is in no way comprehensive and not intended as an unbiased and factual account but that kind of adds to it's charm. Again, it does feel more like someone sitting down and telling you what excites them about the history of the world rather than a textbook. I also loved that very few dates were mentioned and the cast of characters, as it were, is kept toa minimum, prefering to refer to entire populations and their general ideology and makeup rather then swelling in specifics, which gives a description that is no doubt biased but fun and a nice starting point.
Review by waitingtoderail
16/06/2015
A good idea executed with mediocrity. This is a general history of the world written for children, but it is entirely too Eurocentric - Eastern cultures are primarily discussed only in how they related to European powers, Native Americans are discussed only briefly - and when he gets to how they interacted with Europeans he says that it is "so shameful to Europeans" that he doesn't even want to talk about it, and Africa is hardly mentioned at all. A better version of this is waiting to happen.
Review by reedist
16/06/2015
This is my favourite book of the last year - I'm pushing 50, my children are 6 and 8, and we all enjoyed it enormously – we couldn't wait to get to the end of each day and read the next chapter. It's intelligent Central European humanism, treating the reader as an equal and engaged partner. The title clearly sets out that it isn't comprehensive, but it is an excellent and very original introduction to some of the stories that are our past. Clifford Harper's black and white illustrations (looking like drawn woodcuts) are simple, yet often intensely moving, maybe in part because they have a flavour of the past about them.
Also in the Little Histories series | View all