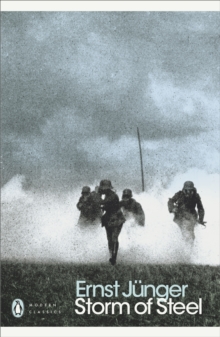 Description
Presenting the desperate conflict of the First World War through the eyes of an ordinary German soldier, Ernst Junger's Storm of Steel is translated by Michael Hofmann in Penguin Modern Classics.'As though walking through a deep dream, I saw steel helmets approaching through the craters.
They seemed to sprout from the fire-harrowed soil like some iron harvest.'A memoir of astonishing power, savagery and ashen lyricism, Storm of Steel depicts Ernst Junger's experience of combat on the front line - leading raiding parties, defending trenches against murderous British incursions, and simply enduring as shells tore his comrades apart.
One of the greatest books to emerge from the catastrophe of the First World War, it illuminates like no other book not only the horrors but also the fascination of a war that made men keep fighting for four long years.Ernst Junger (1895-1998) the son of a wealthy chemist, ran away from home to join the Foreign Legion.
His father dragged him back, but he returned to military service when he joined the German army on the outbreak of the First World War.
Storm of Steel (Stahlgewittern) was Junger's first book, published in 1920.
Greatly admired by the Nazis, Junger remained at a distance from the regime, with books such as his allegorical work On the Marble Cliffs (1939) functioning as a covert criticism of Nazi ideology and methods.If you enjoyed Storm of Steel, you might like Edward Blunden's Undertones of War, also available in Penguin Modern Classics.'To read this extraordinary book is to gain a unique insight into the compelling nature of organized, industrialized violence'Niall Ferguson, author of War of the World'Hofmann's interpretation is superb' The Times'Unique in the literature of this or any other war is its brilliantly vivid conjuration of the immediacy and intensity of battle' Telegraph'Storm of Steel is what so many books claim to be but are not: a classic account of war' Evening Standard
Information
Format: Paperback
Pages: 320 pages
Publisher: Penguin Books Ltd
Publication Date: 03/06/2004
Category: Classic fiction (pre c 1945)
ISBN: 9780141186917
Other Formats
Paperback from £7.09
EPUB from £5.49
Free Home Delivery
on all orders
Pick up orders
from local bookshops
Reviews
Showing 1 - 5 of 6 reviews.
Previous | Next
Review by mensheviklibrarian
16/06/2015
Well written memoir by a soldier who didn't hate the trenches. Junger writes about the nobility of war; a view I don't share but his style is clear and crisp. Not a Nazi, but something of a fellow traveler.
Review by bryanspellman
16/06/2015
A must read for any fan of history. Actually a must for any political leader right now! Reading this I actually want him to win and found myself routing against the British and French. Compelling!
Review by librarianbryan
16/06/2015
Unbelievable. At the end though Ernst, why are you still shooting, why still shoot?
Review by ecw0647
16/06/2015
I think Junger is reflecting a lot of the duality or conflict that many soldiers in combat feel; an intense feeling of camaraderie and living on the edge that brings reality into sharper focus. Yet on page 260 (Penguin edition) he says: "...I felt I had got tired, and used to the aspect of war, but it was from this familiarity that I observed what was in front of me in a new and subdued light. Things were less dazzlingly distinct. And I felt that the purpose with which I had gone out to fight had been used up, and no longer held. The war posed new, deeper puzzles. It was a strange time altogether." He, I think, has us follow his glory in the war, then suddenly shifts to a more reflective look at what he has been through. But in the end, he falls back on the patriotism with which he has been indoctrinated and tries to fight on despite overwhelming odds and the end of the war. I'll have to dig up a biography. <br/><br/>Reading this book was a little strange. It had the feel of a diary, but a disconnected one. I didn't get a really good sense of who he was. Certainly he was a brave (read lucky and/or stupid) man who did what he was told. He speaks of his men's admiration for him, but I didn't get a sense of why they would do so. I had no idea that lieutenants rated servants, and in one instance he is upset because his servant put too much salt on his eggs and ruined them. <br/><br/>I know this book has been denounced as fascistic and supportive of Nazi ideology. Perhaps others are seeing something I don't. Rather for me it was someone who accepted his lot, did the best he could under difficult circumstances, but, all the while reporting the horror of the war and its senseless slaughter, seemed somehow immune to it. ...less "<br/><br/>Sorry for the confusion - I originally mistakenly gave this 3 stars then decided to drop it to 2.
Review by nigeyb
16/06/2015
Ernst Jünger's account of his years fighting as a German soldier on the Western Front during World War One is one of the most graphic I have ever read in terms of descriptions of injuries and violence. That said, much of a soldier's life is routine and boring, and Jünger covers this aspect too.I was surprised by Jünger's matter-of-factness. Although the book is all written in the first person it all feels at one remove. Jünger is a consummate professional, accepting everything that comes his way. Even when learning that his brother lies injured nearby he acknowledges some distress but, having done what he can, returns to the fray with barely a pause.Jünger's sense of detachment meant the narrative was less involving, despite the visceral nature of much of what Jünger describes, and as such it is a far less successful memoir than, say, "Goodbye to All That" by Robert Graves in which I felt I got to know and understand the person as well as the soldier. That said, anyone seeking to gain an insight into the experience of a front line soldier during World War One will do well to find a better account.
Also in the Pocket Penguins series | View all