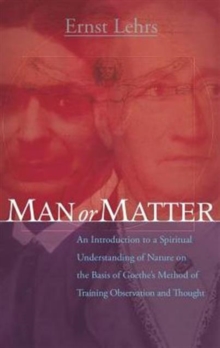 Man or Matter : An Introduction to a Spiritual Understanding of Nature on the Basis of Goethe's Method of Training Observation and Thought
Paperback
Description
In this third, enlarged edition of Lehrs' classic study, the reader is led, step by step, to a spiritual-scientific method of investigation.
The author demonstrates how one can transcend the boundaries of the physical-material world, to the metaphysical origins of nature and the human being.
This is a pioneering new method of training both the mind and eye, as well as other human senses, leading to a transformation from our modern 'onlooking' consciousness to a new kind of 'participative' consciousness.
The beginnings of this method were formulated by Goethe (1749-1832) more than 200 years ago, but his contemporaries offered little in the way of fertile ground for his ideas.
It was Rudolf Steiner (1861-1925) who recognized the significance of 'Goetheanism' for the future development not only of science, but of human culture in general, and who developed Goethe's work in modern times. Man or Matter contains the systematic results of the author's work using the methods of Goethe and Steiner (the latter whom he knew personally). With this unique study, he addresses himself to anyone - with or without a specialized scientific training - who is concerned with developing the human power of cognition in the present time. This revised edition was edited by Nick Thomas and Peter Bortoft.
Information
Format: Paperback
Pages: 560 pages
Publisher: Rudolf Steiner Press
Publication Date: 14/11/2013
ISBN: 9781855843899
Free Home Delivery
on all orders
Pick up orders
from local bookshops
Also by Ernst Lehrs