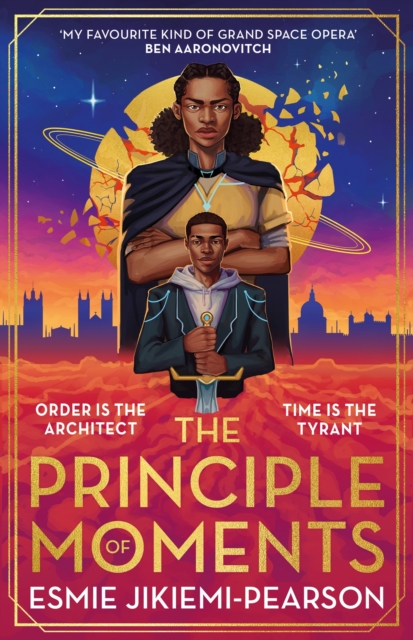 The Principle of Moments : The biggest SF fantasy debut of 2024 and the first ever winner of the Future Worlds Prize
Hardback
Description
'My favourite kind of grand space opera'BEN AARONOVITCH, Sunday Times-bestselling author of the Rivers of London series6066: In Emperor Thracin's brave new galaxy, humans are not citizens but indentured labourers, working to repay the debt they unwittingly incurred when they settled on Gahraan - a desert planet already owned by the emperor himself.
Asha Akindele knows she's just another voiceless cog working the assembly lines that fuel his vast imperial war machine.
Her only rebellion: studying stolen aeronautics manuals in the dead of night.
But then a cloaked stranger arrives to deliver an impossible message, and her life changes in an instant. 1812: Obi Amadi is done with time-travelling. Never mind the fact he doesn't know how to cure himself of the temporal sickness he caught whilst anchoring his soul to Regency London, the one that unmakes him further with every jump. Or if the prince he loves will ever love him back. Or why his father disappeared. He is done. Until he hears about the ghost of a girl in the British Museum.
A girl from another time. When Obi's path tangles with Asha's and a prophecy awakens in the cold darkness of space, they must voyage through the stars, racing against time, tyranny, and the legacy of three heroes from an ancient religion who may be awakening, reincarnated in ways beyond comprehension. A love letter to Black readers of science-fantasy, The Principle of Moments is a symphonic, centuries-spanning adventure - unmissable for fans of the spacefaring found family of Becky Chambers, the alternate London of V.
E. Schwab, and the virtuosic climate-craft of N. K. Jemisin. WHAT READERS ARE SAYING:'Totally different to what I would usually read - a mixture of Star Wars meets Doctor Who in an epic spacey scifi fantasy saga...
Fantastic and captivating' Julia, NetGalley reader review'SUCH A BRILLIANT DEBUT FOR Esmie Jikiemi-Pearson!
I devoured it' Caleb, NetGalley reader review
Information
Format:Hardback
Pages:512 pages
Publisher:Orion Publishing Co
Publication Date:18/01/2024
Category:
ISBN:9781473234192
Information
Format:Hardback
Pages:512 pages
Publisher:Orion Publishing Co
Publication Date:18/01/2024
Category:
ISBN:9781473234192