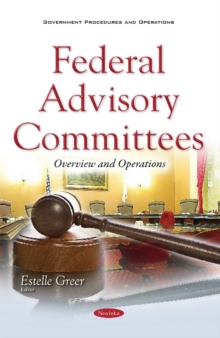 Federal Advisory Committees : Overview & Operations
Paperback / softback
Description
Federal advisory committeeswhich may also be labeled as commissions, councils, or task forcesare established to assist the executive branch in deliberating and, in some cases, helping to solve complex or divisive issues.
Congress, the President, or an agency head may establish a federal advisory committee to render independent advice or provide policy recommendations.
In 1972, Congress enacted the Federal Advisory Committee Act (FACA; 5 U.S.C.
Appendix Federal Advisory Committee Act; 86 Stat. 770, as amended), prompted by the perception that some advisory committees were duplicative, inefficient, and lacked adequate oversight.
FACA mandates certain structural and operational requirements, including formal reporting and oversight procedures.
Additionally, FACA requires committee meetings be open to the public, unless they meet certain requirements.
Also, FACA committee records are to be accessible to the public.
Pursuant to statute, the General Services Administration (GSA) maintains and administers management guidelines for federal advisory committees.
This book offers a history of FACA, examines its current requirements, and provides data on federal advisory committees operations and costs.