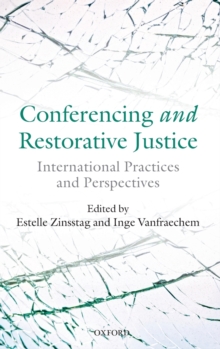 Conferencing and Restorative Justice : International Practices and Perspectives
Hardback
Description
Conferencing and Restorative Justice: International Practices and Perspectives offers an analysis of conferencing practices around the world, examining the range of approaches to different types of crimes and offender age groups, and assessing their outcomes.
First developed in New Zealand and Australia in the 1990s, conferencing is a restorative justice practice which has since spread to a number of other countries as an effective tool in crime reduction.
By encouraging the offender, the victim(s) and family members, and a facilitator to meet and discuss the crime and its consequences, and then to find a just and acceptable outcome for all, those involved hope to repair the harm inflicted upon the victim, the community and society in general.
Inthis book, the editors have drawn together some of the leading figures in the restorative justice community to look at the current condition of such practices, particularly internationally, and to analyse the processes and outcomes of conferencing, compared with the European-favoured, victim-offendermediation. With fourteen chapters featuring a mix of contributors, including both practitioners and academics, the book begins with a general and thematic overview of what conferencing is and how it is developing theoretically and in practice.
This discussion then moves on to some of the original models of conferencing, such as in New Zealand and Australia, and examines some of the challenges (sexual assault cases) and the newer developments found in conferencing in Latin-America.
The final section of thebook consists of European perspectives on conferencing, exploring how some countries have developed conferencing more extensively (such as into the juvenile justice system), others are still in a starting-phase, whilst some have move conferencing outside of the justice system entirely.
Impeccablyresearched and thoughtfully presented, Conferencing and Restorative Justice will be of interest to anyone involved in restorative justice practices, criminal justice and public policy.
Information
Format: Hardback
Pages: 272 pages, 10 illustrations
Publisher: Oxford University Press
Publication Date: 08/11/2012
Category: Police & security services
ISBN: 9780199655038
Free Home Delivery
on all orders
Pick up orders
from local bookshops