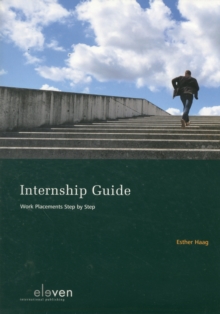 Internship Guide : Work Placements Step by Step
Paperback
Description
A growing number of students in higher education have the opportunity to put their knowledge into practice by means of a work placement.
While the importance of placements is increasingly emphasized in education policy and teaching inspections, there is still a considerable lack of knowledge regarding placement procedures.
Internship Guide: Work Placements Step by Step has been written from the practical perspective of a placement coordinator.
The book addresses the following questions: What problems do students encounter when they start thinking about the jobs their degree program prepares them for?
How does a student find his/her dream internship or placement?
Is it okay to contact a company out of the blue or does there need to be a vacancy first?
Who should be the contact within such an organization and how is contact initiated?
Should an e-mail be sent or would it be appropriate to make contact by phone?
How does one know what kind of assignment will be approved by the faculty?
What agreements need to be included in a contract? Who pays the additional expenses? How does the applicant know if he/she speaks the language of the organization well enough?
The answers to these questions and more can be found in Internship Guide: Work Placements Step by Step.
This textbook has been written for students in higher education (universities of applied sciences and research universities).
It fills the procedural gap, with its contents divided into the following placement steps: Step 1: Orientation * Step 2: Self-Analysis * Step 3: Market Analysis * Step 4: Networking * Step 5: Applying for a Placement * Step 6: The Interview * Step 7: The Placement * Step 8: Rounding Off the Placement
Information
Format: Paperback
Pages: 192 pages
Publisher: Eleven International Publishing
Publication Date: 31/12/2012
Category: Careers guidance
ISBN: 9789490947880
Free Home Delivery
on all orders
Pick up orders
from local bookshops