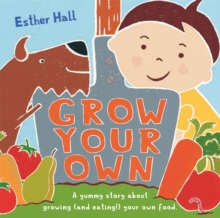 Grow Your Own!
Paperback / softback
Description
Sidney and his mum live a busy life in a busy city.
Dinner time is announced by the PING of the microwave, comes out of piping-hot boxes, and is eaten off knees.
The closest Sidney ever comes to a vegetable is the mushroom on his pizza . . . and he usually picks that off. But when Sidney goes to visit Granny in the countryside, eating his greens suddenly gets a whole lot more interesting!
A beautifully illustrated book about the joys of growing (and eating!) your own food.
Information
Format: Paperback / softback
Pages: 32 pages
Publisher: Pan Macmillan
Publication Date: 01/04/2011
Category: Picture books
ISBN: 9780330524988