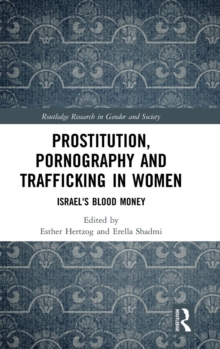 Prostitution, Pornography and Trafficking in Women : Israel's Blood Money
Hardback
Description
This book critically analyzes the sex industry in Israel, using feminist concepts and scholarship to elaborate on the power of prostitution to shape a world in which women are objects for fulfilling men's desires.
A comprehensive collection of research-based articles that examine prostitution, trafficking in women and pornography from divergent disciplinary angles, it reveals the interconnectedness of these three aspects of the sex trade which objectifies, commercializes and exploits human - and in particular women's - sexuality.
Showing these practices to be embedded in a capitalist and patriarchal oppressive context that is accommodated by state institutions, this volume rejects the argument that it is possible to choose prostitution, and that feminist pornography is possible.
With case studies including the conspicuous context of migration that attracts sex traffickers, the liberal discourse introduced by cinema, the media and the arts that serve to legitimate prostitution and pornography, the chauvinist-macho culture that perceives and treats women as sex objects, and the issues of male prostitution and men as clients, Prostitution, Pornography and Trafficking in Women: Israel's Blood Money constitutes a study of Israel as a unique context in which the sex trade can prosper, in spite of geographical, religious and institutional constraints.
As such, it will be of interest to scholars of sociology, anthropology, history, cultural studies and gender and women's studies.
Information
Format: Hardback
Pages: 212 pages, 1 Illustrations, black and white
Publisher: Taylor & Francis Ltd
Publication Date: 17/01/2019
Category: Cultural studies
ISBN: 9781138364585
Also in the Routledge Research in Gender and Society series | View all