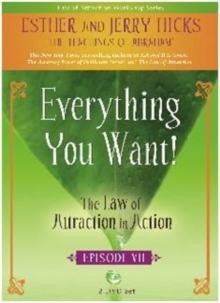 Everything You Want! : The Law of Attraction in Action, Episode VII
DVD video
Description
Topics addressed by Abraham during this workshop include: He has lost his fear of death, but now the idea of being eternal is a little unsettling!What does Abraham think about long-term, committed relationships?Is it possible for human beings to fly?Is it okay to have sex just for the fun of it?What about Indigo Children - what are they all about and how are they unique?What to do when you want to lose weight, but it is hard not to notice what-is because it stares back at you from the mirror.When murderers finally die, do they feel any regret over what they have done?
What does Abraham think about judgment and punishment?What can you do when you feel you have spent your lifetime feeling angry?Zest for life!
An Abraham-inspired routine to help you spend your days in fresh, positive energy.Dream analysis Abraham-style: what it means when you continue to have an unsettling dream.PLUS: The deliciously-detailed story of how Jerry and Esther came to know Abraham.And much, much more.
Answers and inspiration from the Non-Physical entity Abraham whom Esther calls infinite intelligence and Jerry refers to as the purest form of love he has ever encountered.
Free Home Delivery
on all orders
Pick up orders
from local bookshops