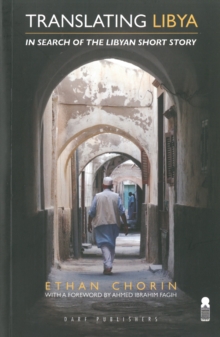 Translating Libya : In Search of the Libyan Short Story
Paperback
Description
Part anthology and part travelogue, Translating Libya presents the country through the eyes of seventeen Libyan short story writers and one American diplomat.Intrigued by the apparent absence of 'place' in modern Libyan short fiction, Ethan Chorin, one of the first U.S. diplomats posted to Libya, resolved in 2004 to track down and translate stories that specifically mentioned cities and landmarks in Libya - and then to visit those places, and describe what he encountered there.
The result is a mixture of travelogue and memoir that sheds light on the social factors that fed the 2011 Revolution, and its aftermath.
The collection includes pieces from the 'sixties generation' of writers, as well as a newer generation of Libyan writers, including several women, writing in a variety of styles, "twisted" 1001 nights, to allegory, fictionalized memoir and overt satire.First published in 2008, this was one of the first books to introduce Libyan literature to an English-speaking audience. The updated 2015 revision includes a Foreword by Ahmed Ibrahim Fagih, one of Libya's most recognised authors, a new Introduction and a selection of essays by the author written in light of the Libyan revolution along with additional short stories.
Chorin explains how the stories, under cover of anonymity, distorted place-names and double-meanings reveal the depth of anger and despair that precipitated and fed the Arab Spring - and serve as a reminder to those who fought heroically for their freedom, that true courage springs from isolating, not repeating the mistakes of the past.
Information
Format: Paperback
Pages: 336 pages
Publisher: Darf Publishers Ltd
Publication Date: 01/10/2015
Category: Short stories
ISBN: 9781850772842
Free Home Delivery
on all orders
Pick up orders
from local bookshops