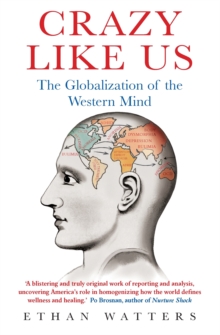 Crazy Like Us : The Globalization of the Western Mind
Paperback
Description
It is well known that US culture is a dominant force and its exportation of everything from movies to junk food is a world-wide phenomenon.
But it is possible that its most troubling export has yet to be accounted for? In Crazy Like Us, Ethan Watters reveals that the most devastating consequence of the spread of US culture has been the bulldozing of the human psyche itself: it is in the process of homogenizing the way the world goes mad.
America has been the world leader in generating new mental health treatments and modern theories of the human psyche.
It exports psychopharmaceuticals packaged with the certainty that its biomedical knowledge will relieve the suffering and stigma of mental illness.
It categorises disorders, thereby defining mental illness and health, and then parades these seemingly scientific certainties in front of the world.
The outcome of these efforts is just now coming to light: It turns out that the US has not only been changing the way the world talks about and treats mental illness -- it has been changing the mental illnesses themselves.For millennia, local beliefs in different cultures have shaped the experience of mental illness into endless varieties.
Crazy Like Us documents how American interventions have discounted and worked to change those indigenous beliefs, often at a dizzying rate.
Over the last decades, mental illnesses popularized in America have been spreading across the globe with the speed of contagious diseases.
Watters travels from China to Tanzania to bring home the unsettling conclusion that the virus is the US.
As Americanized ways of treating mental illnesses are introduced it is in fact spreading the diseases.
In post-tsunami Sri Lanka, Watters reports on the Western trauma counselors who, in their rush to help, inadvertently trampled local expressions of grief, suffering, and healing.
In Hong Kong, he retraces the last steps of the teenager whose death sparked an epidemic of the American version of anorexia nervosa.
Watters reveals the truth about a multi-million-dollar campaign by one of the world's biggest drug companies to change the Japanese experience of depression -- literally marketing the disease along with the drug.
But this book is not just about the damage the US has caused abroad he also examines how US culture constantly shapes and sometimes creates the mental illnesses of our time.
By setting aside its role as the world's therapist, the US may come to accept that it has as much to learn from other cultures' beliefs about the mind as it has to teach.
Information
Format: Paperback
Pages: 336 pages
Publisher: Little, Brown Book Group
Publication Date: 01/03/2011
Category: Psychology
ISBN: 9781849015776
Free Home Delivery
on all orders
Pick up orders
from local bookshops
Also by Ethan Watters