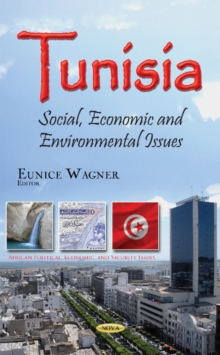 Tunisia : Social, Economic & Environmental Issues
Hardback
Description
Tunisia is located in North Africa, on the border of the Mediterranean.
Covering 162,155 km, it is characterized by a temperate climate in the north, with mild rainy winters and hot summers, and a desert type of climate in the south.
Tunisia is an arid country on the major part of its territory.
This book reviews the social, economic and environmental issues of Tunisia.
Chapter One discusses irrigation and soil salinity of the country.
Chapter Two assesses the effects of deficit irrigation on gross margin and water use efficiency of potato crops, irrigated with subsurface drip irrigation, in a semiarid area of central Tunisia.
Chapter Three provides a performance evaluation of AquaCrop in simulating soil water content, canopy cover, and root development for maize conducted under subsurface drip irrigation.
Chapter Four presents new angles on analyzing Domestic Solar Water Heating systems (DSWHs) deployment in Tunisia by analyzing both the energetic and the economic potential through a case study.
Chapter Five studies the potential offered by the use of a PV/T solar collector in Tunisian households to supply electricity and domestic hot water simultaneously.
Chapter Six contributes to the understanding of the epidemiology of enteric viruses in Tunisia and underlines the need of an environmental surveillance program and official viral controls for treated wastewater.
Chapter Seven focuses on the climate change effects of evapotranspiration estimated by different empirical models under the Mediterranean environment.
Information
Format: Hardback
Pages: 115 pages
Publisher: Nova Science Publishers Inc
Publication Date: 01/12/2016
Category: Sociology
ISBN: 9781536100617