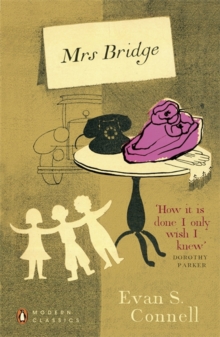 Description
Evan S. Connell's Mrs Bridge is an extraordinary tragicomic portrayal of suburban life and one of the classic American novels of the twentieth century, influencing books such as Jonathan Franzen's The Corrections.
This edition has an introduction by Joshua Ferris, author of Then We Came to the End and The Unnamed.
Mrs Bridge, an unremarkable and conservative housewife in Kansas City, has three children and a kindly lawyer husband.
She spends her time shopping, going to bridge parties and bringing up her children to be pleasant, clean and have nice manners. And yet she finds modern life increasingly baffling, her children aren't growing up into the people she expected, and sometimes she has the vague disquieting sensation that all is not well in her life.
In a series of comic, telling vignettes, Evan S. Connell illuminates the narrow morality, confusion, futility and even terror at the heart of a life of plenty.The companion novel Mr Bridge, telling the story from the other side of the marriage, is also available in Penguin Modern Classics, with an introduction by Lionel Shriver, author of We Need to Talk About Kevin.Evan S.
Connell was born in Kansas City in 1924. He served in the US navy in the second world war and lived briefly in Paris before returning to the US, where he wrote an incredibly varied range of books and supported himself with odd jobs.
In 2009, he was nominated for the Man Booker International Prize for lifetime achievement, and in 2010, he was awarded a Los Angeles Times Book Prize.
Connell died in New Mexico on 10th January 2013, aged 88. 'How it is done I only wish I knew' - Dorothy Parker'An exquisite mixture of sympathy and ironic detachment' - Independent
Information
Format: Paperback
Pages: 208 pages
Publisher: Penguin Books Ltd
Publication Date: 01/06/2012
ISBN: 9780141198651
Free Home Delivery
on all orders
Pick up orders
from local bookshops
Reviews
Showing 1 - 1 of 1 reviews.
Review by starbox
27/08/2015
"I wish I knew what to do but I just don't understand", April 18, 2015This review is from: Mrs. Bridge (Paperback)A wonderful exploration of people: the unbridgeable distances between us, even members of the same family. Set in the 30s/40s, this is a family story seen almost entirely from the perspective of India Bridge. Living a comfortable middle-class life in Kansas City, Mrs Bridge's days revolve around her lawyer husband, her three increasingly alien children, and her friends at the country club.Mrs Bridge has received a 'proper' upbringing and her inability to raise children with the same values, and her constant need to make bright, courteous, meaningless remarks are perhaps her defining characteristics. And yet at moments she becomes aware that there is something missing from her life - an emptiness that she tries in vain to fill...The author describes her life in a series of 'sketches' rather than in lengthy chapters. At times hilarious (who could forget dinner with the unutterably dull and patronising Van Metres), elsewhere sad and hopeless, many of the events are minor in themselves yet illustrate life as it is.I couldn't put this down and would totally recommend it.
Also in the Penguin Modern Classics series | View all