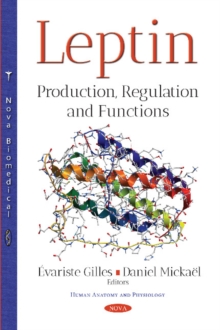 Leptin : Production, Regulation & Functions
Paperback / softback
Description
In Chapter One, Dr Med Ioannis Iakovou examines whether the link between weight and bone mineral density is caused by or directly correlated with leptin and adiponectin.
Afterwards, Chapter Two by Martha A. Ramirez, Adrian A. Arellano, Fang Xie, Elizabeth A. Benavides, Robin A. Katchko, Luis Ayala, Alexandra Calderon, Rita A. Flores, Jean M. Escudero, Duane H. Keisler, Randy L. Stanko, and Michelle R. Garcia investigates the link between leptin and infertility issues caused by defects of abnormalitie sin the corpus luteum.
Chapter Three by Professor Jaak Jurimae, PhD investigates the link between leptin and energy intake and expenditure by athletes.
In Chapter Four, Renata Saucedo, PhD, Jorge Valencia, PhD, Claudia Gutierrez, and Arturo Zarate, PhD examine the connection between increased leptin levels and insulin resistance.
Next, Tiziana Maria Sirangelo analyzes the role between leptin and obesity, explaining that leptin plays a crucial role in the regulation of food intake in Chapter Five.
In Chapter Six, Federico Sireci, MD, Francesco Cappello, Frank Rikki Canevari, MD, Francesco Dispenza, MD, Salvatore Gallina, PhD, Pietro Salvago, MD, and Francesco Martines study the peptidergic immunohistochemical manifestation of leptin in laryngeal SCCs.
Information
Format: Paperback / softback
Pages: 173 pages
Publisher: Nova Science Publishers Inc
Publication Date: 01/10/2017
Category: Physiology
ISBN: 9781536125481
Free Home Delivery
on all orders
Pick up orders
from local bookshops