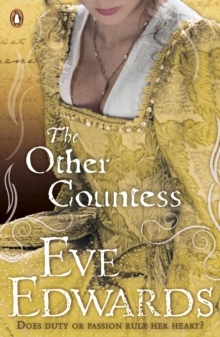 The Other Countess
Paperback
Description
England, 1582ELLIE - Lady Eleanor Rodriguez of San Jaime - is in possession of a gold-seeking father, a worthless title and a feisty spirit that captivates the elite of the Queen's court, and none other than the handsome new Earl of Dorset . . .WILLIAM LACEY has inherited his father's title and his financial ruin.
Now the Earl must seek a wealthy heiress and restore his family's fortune.
But Will's head has been turned by the gorgeous Ellie, yet their union can never be.
Will is destined to marry a worthy Lady so the only question is - which one . . . ?
Information
Format: Paperback
Pages: 352 pages
Publisher: Penguin Books Ltd
Publication Date: 01/07/2010
Category: Historical
ISBN: 9780141327303
Free Home Delivery
on all orders
Pick up orders
from local bookshops
Reviews
Showing 1 - 4 of 4 reviews.
Review by rebecca191
16/06/2015
Sixteen-year-old Ellie Hutton (also known as the Lady Eleanor Rodriguez, Countess of San Jaime, a worthless Spanish title she inherited from her mother) is the daughter of an alchemist obsessed with his craft. He has wasted all the family's money over the years and Ellie often resents the life she lives as a result of his decisions. Eighteen-year-old Will Lacey, the Earl of Dorset, must solve his family's financial problems after his late father wasted the family fortune. He hopes that if he can marry a rich heiress with a large dowry, his family's problems will be solved. Will and Ellie last met four years ago, when he threw Ellie and her father (who had been sponsored by Will's father) off his lands after his father died. Will blames Ellie's father for his family's poverty, as much of the money his father wasted was spent on alchemical research.It is at the court of Elizabeth I in 1582 that Ellie and Will meet again. Ellie's father has found another nobleman to sponsor him, and Will is searching at court for a wealthy young woman to marry. Ellie and Will are instantly attracted to each other - and horrified by that fact, as a result of their past history. Their attraction eventually develops into love, but Will is forced by his duty to his family to court the Lady Jane, a wealthy young woman with a large dowry.The Other Countess is one of my favorite books so far this year. Ellie and Will and all the other characters were very well developed and I liked all of them. I wanted to hate Lady Jane at first, for being an obstacle to Will and Ellie's love, but she was actually a really sympathetic character and I am looking forward to reading her story in the sequel, The Queen's Lady, which will be published in February 2011. The historical setting was really well researched and highly detailed. I highly recommend this book to readers who love historical romance or stories set in Tudor England.
Review by sensitivemuse
16/06/2015
I really enjoyed the storyline in this book. It wasn't that heavy on the history although the setting was well done. It was the characters that did the trick with this book and the romance. Now I'm not a romance type of reader but the romance aspect of the story was nice and sweet and went well hand in hand with the story as well. There's lots of chemistry between the main couple really helped this book come along. Besides Ellie and Will, the other characters were very memorable (Jane and James, Diego are great examples). Usually with this type of historical fiction you have a nice blend of political intrigue, this story, doesn't have that - but it's good, because it's not needed. However Edwards adds in the conflict between Catholics and Protestants to give it a more historical feel to it but not so overwhelming on the history lesson - which is great since this book caters to Young Adults.Wonderful read, and with a beautiful ending. I know there's two more books after this so I'll be sure to pick them up. This was a great read with characters that are well done and memorable. It's a sweet romance without it being cheesy and silly. It's worth reading even for those who aren't into romances like I am.
Review by wyvernfriend
16/06/2015
The Lady Eleanor Rodriguez of San Jaime, otherwise known as Ellie Hutton is the daughter of an alchemist. An Alchemist who has run through money from many people trying to perfect his science. The last time she came across the Earl of Dorset, William Lacey, he was throwing them out of his house for having squandered all of his father's money. Now they meet at Elizabeth's court, William is looking for a rich wife to restore his fortune and she's looking to survive.It's an interesting story with a lot of historical details but sometimes drags and is a little predictable. Still I enjoyed the read.
Review by A_Reader_of_Fictions
16/06/2015
I completely adored this book. Of course, I'm a sucker for period pieces, but, hey, this was definitely a good one, even coming on the heels of Grave Mercy. Ellie is a fantabulous, feisty girl. She is well-educated and doesn't conform to society's expectations of her. If someone tries to take advantage of her or lie to her, she calls them out on it and defends herself. Love her.<br/><br/>Her dad is seriously frustrating. If I were her, I would have left him behind ages ago if possible. She feels a loyalty to him, even though he's always neglected her for his alchemy. On the one hand, I do admire her for this, but it's also sad because she's so strong and commanding when dealing with other men but so weak to her father. No one can mess you up like your parents!<br/><br/>Books like this you don't really read for the plot. Obviously, it's about romance and you pretty much know what essentially is going to happen from the opening pages. However, that's no problem if the journey is a good one. And, oh my, but it is. I loved that Edwards added in some serious historical elements, like the religious persecution in Elizabethan England. Plus, I totally dig the Shakespearean flair the romantic shenanigans have.<br/><br/>The story also follows, although slightly less frequently, Lady Jane. Based on her introduction, which has her falling prey to the seduction of an obvious rake, I expected to loathe her. However, I came to like her too. She's no Ellie, of course, but beneath her exterior, she's just a person longing to be loved like the rest of us. Besides, it's no wonder she has become so cold on the surface with everyone after her money and only her awful brother for company.<br/><br/>Apparently, the next book, The Queen's Lady, will continue on with her story. Thank goodness for that, because I was really disappointed not to read her happy ending! Moving on to book two posthaste!
Also in the The Other Countess series