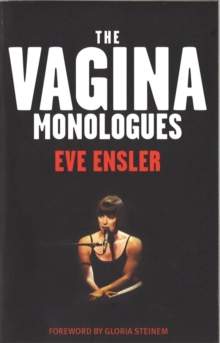 The Vagina Monologues
Paperback
Description
I decided to talk to women about their vaginas, to do vagina interviews, which became vagina monologues ...
At first women were reluctant to talk. They were a little shy. But once they got going, you couldn't stop them. Women secretly love to talk about their vaginas. They get very excited, mainly because no one's ever asked them before.' Eve Ensler A poignant and hilarious tour of the last frontier, the ultimate forbidden zone, THE VAGINA MONOLOGUES is a celebration of female sexuality in all its complexity and mystery.
Hailed as the bible for a new generation of women, it has been performed in cities and colleges throughout the world, and has inspired a dynamic grassroots movement - V-Day - to stop violence against women.
Witty and irreverent, compassionate and wise, Eve Ensler's award-winning masterpiece gives voice to real women's deepest fantasies and fears, guaranteeing that no one who reads it will ever look at a woman's body, or think of sex, in quite the same way again.
Information
Format: Paperback
Pages: 224 pages
Publisher: Little, Brown Book Group
Publication Date: 01/05/2001
Category: Plays, playscripts
ISBN: 9781860499265
Other Formats
EPUB from £5.99
CD-Audio from £11.45
Free Home Delivery
on all orders
Pick up orders
from local bookshops
Reviews
Showing 1 - 5 of 9 reviews.
Previous | Next
Review by wyvernfriend
16/06/2015
There ain't much more I can say about this but wow. I really need to get up and go to the next performance.
Review by gillis.sarah
16/06/2015
I have loved 'The Vagina Monologues' ever since I saw it for the first time a few years ago. Favorite monologues include 'The Flood', 'The Little Coochie-Snorcher That Could', and others. Parts of it make me cringe, parts make me laugh, and all of it is intense. It's better to watch a performance than to read it, but the book is still great
Review by pictou
16/06/2015
I listened to this on tape and enjoyed the dialog, especially the parts that were read as an older woman. I feel like it's more of a performance piece and that the personalization and character wouldn't come across in written word.
Review by katfusion
16/06/2015
This was a fantastic and very helpful book! I learned things about women and being a woman that, <b>as</b> a woman, I should've already known but didn't. Now I feel enlightened, empowered, and inspired to share Eve's message with others. I highly recommend this book to everyone, men or women.
Review by shanaqui
16/06/2015
I've been meaning to read or see The Vagina Monologues for a long time. Someone was talking about it, as people often do, and I realised it was available on the Kindle store, so I got it.<br/><br/>It's a very quick read. It's not an easy read. There's discussion of self-loathing, of embarrassment and shame, of sexual assault and violence against women, of statutory rape. It might also not be easy for you if you can't read the word 'vagina' without getting uncomfortable, or if you don't like the word 'cunt', or if you wish that women wouldn't talk about 'down there' in public.<br/><br/>It's about that discomfort, and it's about shining a light on something that we don't talk about, that we are often taught to be ashamed of. A few years ago, I wouldn't have been able to stand the idea of reading it: right now, I can't stand the idea of performing it. And I'm not ready to talk to my grandmother about it! But maybe someday...<br/><br/>In any case, I think it's a very important idea, to talk about these things that we find so discomforting. How often have I heard men talking about their penises in public? Far more often than I've ever heard women do -- and often when we do, it's hushed and breathless and illicit.<br/><br/>On the other hand, I am not my vagina. <I>I</i> am not my physical form at all, personally. And it feels like this book does a lot of that -- distilling women down until the only important part of them is physical, sexual. For many women, that's not the truth, and it doesn't have to be. And the references in the foreword about not being able to write 'politically correctly', not being able to write about transgendered women -- I believe she should have tried until she got it, by talking to transgendered women, and talking to them again, and again, just like the one about the lesbian who said she was doing it wrong. And if she really, truly couldn't do it, then she should have stepped back and let a transgendered woman write it for herself, if her work is truly intended to be inclusive and about all women everywhere.<br/><br/>There's more I don't really engage with: I don't relate to questions like what would my vagina want to dress in, or what it would say. It's a part of me, not separate.<br/><br/>Everything has limitations, though, it's true, and this is a big step for many women. Hopefully fewer and fewer, as society moves on. I'm sure someone has written their own transgendered woman monologue -- I hope many have -- and I hope they're heard, too.<br/><br/>This particular edition, with the introduction by Gloria Steinem, is quite interesting, giving some historical/cultural context. It also includes a lot of stuff about people's reactions to "V-Day", which can be interesting to read. However, do note that the Kindle edition is badly proofread in places.