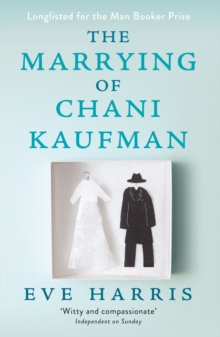 The Marrying of Chani Kaufman
Paperback
Description
19 year-old Chani lives in the ultra-orthodox Jewish community of North West London.
She has never had physical contact with a man, but is bound to marry a stranger.
The rabbi's wife teaches her what it means to be a Jewish wife, but Rivka has her own questions to answer.
Soon buried secrets, fear and sexual desire bubble to the surface in a story of liberation and choice; not to mention what happens on the wedding night -
Information
Format: Paperback
Pages: 350 pages
Publisher: Sandstone Press Ltd
Publication Date: 01/08/2013
ISBN: 9781908737434
Free Home Delivery
on all orders
Pick up orders
from local bookshops
Reviews
Showing 1 - 3 of 3 reviews.
Review by alexdaw
16/06/2015
The Marrying of Chani Kaufman by Eve HarrisThis book has been longlisted for the Booker Prize. I read The Marrying of Chani Kaufman on my Kobo. If I had bought the paperback it runs to 350 pages or 36 chapters. The only really frustrating thing about the Kobo version is that the Glossary is not part of the clickable dictionary but is a separate chapter at the end of the text. This does not make checking definitions of the many Jewish words and phrases easy and they are liberally sprinkled throughout.The book is essentially about two Ultra Orthodox Jewish families and is set in two time periods - contemporary London (or near to contemporary as in 2008) and a generation earlier, much of which is set in Jerusalem. We follow the stories of about-to-be-wed Chani and her betrothed, Baruch as well as Chani's marriage guidance counsellor (for want of a better phrase) Rivka, the wife of the Rabbi and her son Avromi. At times I became impatient with the writing which tended to be melodramatic and some of the Neighbours or TV-soap-like scenes which stretched credulity.But by the end I had sympathy for the characters and was genuinely interested in how things turned out.This novel introduced me to a world of which I was deeply ignorant and so for that I am grateful. But I did keep checking my progress on the Kobo which is never a very good sign for being absorbed in the story.
Review by pamjw
16/06/2015
From Jerusalem to Golders Green; hope and expectation - sometimes dashed and sometimes realised; interfering mothers, gentle unfurling love and a little understanding when others slip up.A delightful book. Honest about the struggles of life and marriage, but also true grit and determination.Great to read something different and also enlightening about another culture.
Review by Heduanna
23/09/2015
An interesting, enjoyable read, and yet... Rather too much telling, not enough showing. For example, Chani becomes very attached to the Rabbi's wife: why? We barely see them together. Still, I would read more by this author.