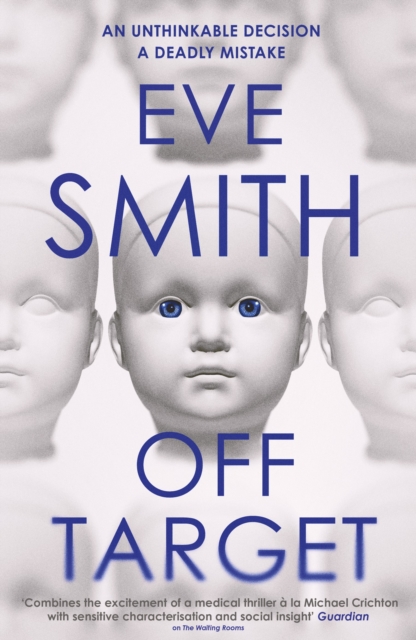 Off-Target : The captivating, disturbing new thriller from the author of The Waiting Rooms
Paperback / softback
Description
When a one-night stand leads to a long-desired pregnancy, Susan will do anything to ensure her husband won't find out ... including the unthinkable. But when something horrendous is unleashed around the globe, her secret isn't the only thing that is no longer safe... 'The first half is a high-concept thriller; the second edges into science fiction as a generation of genetically optimised children respond to the social pressures they are under ... an astute, well-researched and convincing novel of ideas' The Times'If you could create a "perfect" baby through genetic engineering, would you?
A disturbing and interesting thriller, perfect for book club discussions' Nina Pottell, Prima'A fantastic exploration of the ethics and allure of genetic engineering woven into a captivating, thought-provoking thriller.
Provocative, pacy and scarily all-too-possible' Philippa East------------An unthinkable decisionA deadly mistakeIn an all-too-possible near future, when genetic engineering has become the norm for humans, not just crops, parents are prepared to take incalculable risks to ensure that their babies are perfect ... altering genes that may cause illness, and more... Susan has been trying for a baby for years, and when an impulsive one-night stand makes her dream come true, she'll do anything to keep her daughter and ensure her husband doesn't find out ... including the unthinkable. She believes her secret is safe. For now. But as governments embark on a perilous genetic arms race and children around the globe start experiencing a host of distressing symptoms - even taking their own lives - something truly horrendous is unleashed. Because those children have only one thing in common, and people are starting to ask questions... Bestselling author of The Waiting Rooms, Eve Smith returns with an authentic, startlingly thought-provoking, disturbing blockbuster of a thriller that provides a chilling glimpse of a future that's just one modification away... _____________'An effective thriller that will keep you hooked to the very end ... more than that, it's a nuanced, believable examination of how human genetic engineering might play out...' SFX Magazine 'A brilliantly chilling work of speculative fiction - a disturbing but all-too-possible vision of the near future, where each of us gets to play God.
Superb!' Guy Morpuss'Sharp, intelligent, frightening and original' NB Magazine'An eerily prophetic near-future viewed through a compassionately anchoring lens ...
As tempting and tantalising a read as the vision of the future it presents' SciFi Now'This is what speculative fiction should be - plausible, pacy, and with a story that packs real emotional punch' Louise Mumford'When a writer's work is compared to Michael Crichton's, there's reason to sit up and pay attention ... a cautionary tale that's full of thrills' LoveReading 'With jaw-dropping twists, high stakes and so much heart, this is a book that everyone will be talking about' Awais Khan'Fast-paced, emotional, disturbing.
Lovers of cleverly plotted speculative fiction should jump on this' Catherine McCarthy'Eve Smith has done it again!
A brilliant read' J.M. Hewitt'One of the most exciting writers around ... master of the high-concept thriller' Chris McDonald'Eve Smith has crafted a world that feels not only lived-in, but utterly plausible' Russel McLean'Captivating' Professor Joanna Verran'Eve Smith is becoming the Jodi Picoult of speculative medical thrillers' The Reading ClosetPraise for The Waiting Rooms*****'Combines the excitement of a medical thriller a la Michael Crichton with sensitive characterisation and social insight in a timely debut novel all the more remarkable for being conceived and written before the current pandemic' Guardian'STUNNING and terrifying ...
The Waiting Rooms wrenches your heart in every way possible' Miranda Dickinson'Chillingly close to reality, this gripping thriller brims with authenticity ... a captivating, accomplished and timely debut from an author to watch' Adam Hamdy'Engrossing and eye-opening, with heart-stopping plot twists ... a stunning medical thriller set in a terrifying possible future' Foreword Reviews For fans of Emily St John Mandel, Robin Cook, Tess Gerritsen and Louise Dought
Information
Format:Paperback / softback
Pages:300 pages
Publisher:Orenda Books
Publication Date:17/02/2022
Category:
ISBN:9781914585029
Information
Format:Paperback / softback
Pages:300 pages
Publisher:Orenda Books
Publication Date:17/02/2022
Category:
ISBN:9781914585029