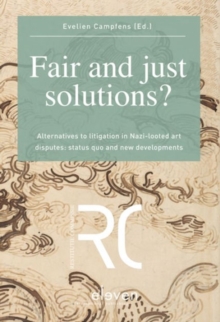 Fair and Just Solutions : Alternatives to Litigation in Nazi-Looted Art Disputes: Status Quo and New Developments
Paperback
Description
The title of this book, Fair and Just Solutions?, refers to the norm for the assessment of ownership claims to Nazi-looted art as codified in the so-called Washington Principles in 1998: If the pre-War owners of art that is found to have been confiscated by the Nazis and not subsequently restituted, or their heirs, can be identified, steps should be taken expeditiously to achieve a just and fair solution, recognizing this may vary according to the facts and circumstances surrounding a specific case. The question mark in the title is a reference to the lack of clarity surrounding this norm.
What is 'fair and just'? This publication aims to evaluate the status quo in the field of non-governmental restitution claims to Nazi-looted art.
In addition, through contributions by leading experts and a discussion amongst stakeholders, it explores a way to move forward.
Information
Format: Paperback
Pages: 328 pages
Publisher: Eleven International Publishing
Publication Date: 31/12/2014
Category: Public international law
ISBN: 9789462364714
Free Home Delivery
on all orders
Pick up orders
from local bookshops