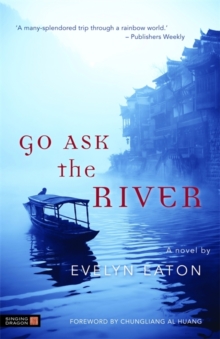 Go Ask the River
Paperback / softback
Description
Here is the haunting story of the great female poet Hung Tu, who flourished in the ninth century during one of the great periods of Chinese literature.
The daughter of a Government official far from the capital, on the Silk River, she was, most unusually, brought up with her brothers whom she far outshone.
Falling on evil times, her father sells her to the best Blue House on the Silk River.
Hung Tu's poetry and calligraphy bring her great renown, and the story traces her rise from Flower-in-the-Mist to Official Hostess at the court of the governors of the Silk City, and her love affair with the poet Yuan Chen.
Set against the backdrop of the scholars, poets, officials, and warring factions of ninth century China, this wonderful story reconstructs one of the great periods of China - turbulent, cruel, yet with a sense of beauty remarkable by any standards and in any age.
Go Ask the River is a tale not only of historical China, but of the human struggle to discover how to be alive. 'Throughout runs the Taoist Philosophy - the Eight Signs of the Golden Flower, the meaning of Tao, the place of women in Oriental society.
Hung Tu emerges as a vibrant figure, radiating a sense of beauty, balance, and well-being.' - Montreal Star'The stylized sensuality of the world that Miss Eaton writes about is so clearly defined by the cool simplicity of her language that as we read this tale of ninth-century China we see that it all happened just as she tells it, and her characters are as real to us as though we read about them in the newspapers every day.' - The New Yorker'A many-splendored trip through a rainbow world.' - Publishers Weekly
Information
Format: Paperback / softback
Pages: 288 pages
Publisher: Jessica Kingsley Publishers
Publication Date: 15/12/2011
ISBN: 9781848190924
Free Home Delivery
on all orders
Pick up orders
from local bookshops