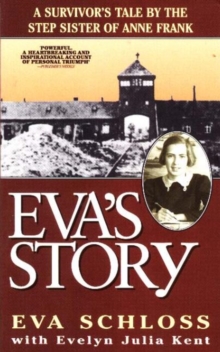 Eva's Story : A Survivor's Tale by the Step-Sister of Anne Frank
Paperback
Description
In March 1938 the Germans invaded Austria and young Eva Geiringer and her family became refugees.
Like many Jews they fled to Amsterdam where they hid from the Nazis until they were betrayed and arrested in May 1944.
Eva was fifteen years old when she was sent to Auschwitz -- the same age as her friend Anne Frank.
Together with her mother she endured the daily degradation that robbed so many of their lives -- including her father and brother.
After the war her mother married Otto Frank, the only surviving member of the Frank family.
Only after forty years was Eva able to tell her story
Information
Format: Paperback
Pages: 224 pages, Ill.
Publisher: Evelyn Kent
Publication Date: 01/10/1999
ISBN: 9780952371694
Free Home Delivery
on all orders
Pick up orders
from local bookshops
Reviews
Showing 1 - 1 of 1 reviews.
Review by Whisper1
16/06/2015
This emotional and powerful story is yet another testimony of the will to survive despite incredible odds.Life as she knew it ended for Eva Schloss with the German invasion of Holland. After two years of hiding, her family was betrayed, and tragically she was captured on her 15th birthday.Her brother and father were sent to Auschwitz and she and her mother were cattled in trains to Birkenau death camp.Much like Thomas Buergenthal, author of A Lucky Child: A Memoir of Surviving Auschwitz as a Young Boy, Eva did not tell her tale until many years had passed.Forty years after the Russian army liberated the death camps, she began to put memory to written word.She chronicles the terror, the dehumanization, the rat, flea, bed bug, stench filled, cramped surroundings, the fear of illness least she would be sent to the ever smoking ovens, the heart breaking separation of her family and death of her father and brother.Like Buergenthal and others, her life was spared time and again through a series of lucky events, kind people who helped and sacrificed and through sheer determination and will power.Later, after she and her mother returned to Holland, they were visited by Otto Frank, a family friend who was imprisoned in Auschwitz with her father and brother.Heartbroken, Otto learned that he lost his beloved wife Edith who died from exhaustion and starvation shortly before the Russians liberated the campus. His two daughters, Anne and Margot, both died from typhoid fever in Bergen-Belsen.Learning that his daughter Anne had written a diary, reading her testimony was an overwhelmingly emotional experience.Eventually marrying Eva's mother, they moved to Switzerland. Together Eva's mother and Anne's father worked to answer all letters received after the publication of The Diary of a Young Girl.Highly recommended.