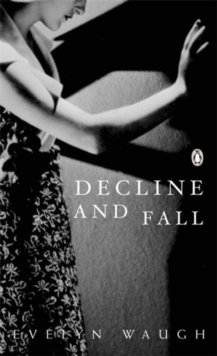 Decline and Fall
Paperback
Description
Sent down from Oxford in outrageous circumstances, Paul Pennyfeather is oddly surprised to find himself qualifying for the position of schoolmaster at Llanabba Castle.
His colleagues are an assortment of misfits, rascals and fools, including Prendy (plagued by doubts) and Captain Grimes, who is always in the soup (or just plain drunk).
Then Sports Day arrives, and with it the delectable Margot Beste-Chetwynde, floating on a scented breeze.
As the farce unfolds and the young run riot, no one is safe, least of all Paul.
Information
Format: Paperback
Pages: 224 pages
Publisher: Penguin Books Ltd
Publication Date: 26/08/2003
ISBN: 9780141187488
Other Formats
Paperback from £6.85
Hardback from £15.09
EPUB from £4.99
Free Home Delivery
on all orders
Pick up orders
from local bookshops
Reviews
Showing 1 - 5 of 5 reviews.
Review by DameMuriel
16/06/2015
It's like "The Headmaster Ritual" by the Smiths except funnier.
Review by queen_evie
16/06/2015
Decline and Fall tells the story of Paul Pennyfeather, a young man who is (through no fault of his own) shamed out of Oxford university and made a schoolteacher (unlikely candidate though he is to teach sport or music, due to his total lack of knowledge in these areas) in Llabbana castle in Wales. Here he meets an array of interesting and often insincere characters, and most importantly perhaps, the magnificent Mrs Beste-Chetwynde whose wily charms he is soon spellbound by. A funny sequence of events follows, and almost all the characters have hilariously interlocking storylines, ducking and weaving in and out of each others lives. This is Waugh's first novel, written in 1928 and was meant to be a satirical look at English 'society' and the absurdity thereof, I believe. I suppose sometimes humour and satire don't quite transcend time and social context, because although I did find the book amusing, I also felt it was slightly lacking. It seems to end abruptly, and I suppose I subconciously am uncomfortable sometimes with stories that aren't ciruclar and don't conform to the standard structural foundation of Beginning: set the scene, Middle: problem and plot, and End: Conclusion and resolution. But I don't doubt that is the effect it was MEANT to have, as I'm sure Waugh intended to point out that what some people considered 'normal' was rather ridiculous. It was well-written, certainly - simplistic but purposeful language, not overly-descriptive but I could definately picture grey-green Wales and hear the pomp of the 'lords and ladies' without a thousand adjectives. Overall I rate it 3 1/2 out of 5, because while I enjoyed it I still felt a little... let down by it.
Review by CitizenMarc
16/06/2015
Mild to quite amusing light satire on the mores and manners of the English upper classes during the 1920's and the naivety of the aspiring bourgeoisie (not leaving the lower orders unscathed with some patronising en passant caricatures, nevertheless tinged with a modicum of affection). The narrative is a 'stiff upper lip' farce: a young Oxford undergraduate finds himself the unwitting victim, several times over, of the amoral cavorting of upper class types, leading to his sending down from College, his sudden and convenient romance and betrothal to a high society socialite and (unknown to him) 'white slave trafficker' who leaves him in the lurch when, once more unwittingly. he is apprehended parti pris and has to carry the can in gaol; his subsequent retrieval from prison by the machinations of the same woman, only then to slope off to an obscure religious vocation is a little anticlimactic. There are many targets for EW's dry satire and some of the set pieces bite strongest, including the account of a somewhat dadaist school sports day, during which a young boarder is shot (and his eventual demise chronicled in a several brutally indifferent epistolary asides, made by both headmaster and his mother) and in the caricature of the iconoclastic destruction of the Pastmaster stately home for a vulgar modernist carbuncular make-over. Some of these sketches also sail close to the wind in portraying the casual racism and discrimination of the age ('Chalky', Mrs Beste-Chetwynde's 'companion', is described using language no longer deemed acceptable) while committing much of the same in the narrator's racist portrayal of the morally stunted Welsh wind-bags of the 'Llanabba' local choir. Other more obscure attacks (from our contemporary perspective) include diatribes against religious movements within Anglicism of the time (1928) and fads for liberal penal reform. Nevertheless, despite its weaknesses, this is the promising first novel of a 24/25 year old who went on to write such classics as 'Scoop' and 'Brideshead Revisited'.
Review by Seager
16/06/2015
I haven't read this for years but all I remember about reading it is that I laughed out loud when I read it on a train, I literally could not stop laughing. Brilliant writer and very funny book.
Review by Novak
16/06/2015
Decline and Fall is a marvellous first novel, years before it's time. Obviously read by Tom Sharp and all the Monty Python gang in their time. Witty, clever, cutting and very entertaining. My first ever Evelyn Waugh book many years ago, it made me a fan. Re-read over and over.
Also in the Penguin Modern Classics series | View all