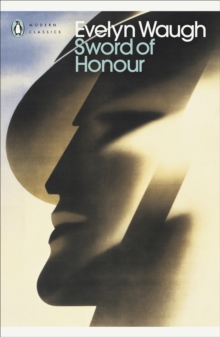 Sword of Honour
Paperback
Description
Fictionalising his experience of service during the Second World War, Evelyn Waugh's Sword of Honour is the complete one-volume edition of his masterful trilogy, edited with an introduction by Angus Calder in Penguin Modern Classics.Waugh's own unhappy experience of being a soldier is superbly re-enacted in this story of Guy Crouchback, a Catholic and a gentleman, commissioned into the Royal Corps of Halberdiers during the war years 1939-45.
High comedy - in the company of Brigadier Ritchie-Hook or the denizens of Bellamy's Club - is only part of the shambles of Crouchback's war.
When action comes in Crete and in Yugoslavia, he discovers not heroism, but humanity.
Sword of Honour combines three volumes: Officers and Gentlemen, Men at Arms and Unconditional Surrender, which were originally published separately.
Extensively revised by Waugh, they were published as the one-volume Sword of Honour in 1965, in the form in which Waugh himself wished them to be read.Evelyn Waugh (1903-66) was born in Hampstead, second son of Arthur Waugh, publisher and literary critic, and brother of Alec Waugh, the popular novelist.
In 1928 he published his first work, a life of Dante Gabriel Rossetti, and his first novel, Decline and Fall, which was soon followed by Vile Bodies (1930), A Handful of Dust (1934) and Scoop (1938).
In 1939 he was commissioned in the Royal Marines and later transferred to the Royal Horse Guards, serving in the Middle East and in Yugoslavia.
In 1942 he published Put Out More Flags and then in 1945 Brideshead Revisited.
Men at Arms (1952) was the first volume of 'The Sword of Honour' trilogy, and won the James Tait Black Memorial Prize; the other volumes, Officers and Gentlemen and Unconditional Surrender, followed in 1955 and 1961.If you enjoyed Sword of Honour, you might like Ford Madox Ford's Parade's End, also available in Penguin Modern Classics.'Marvellous ... one of the masterpieces of the century'John Banville, Irish Times
Information
Format: Paperback
Pages: 736 pages
Publisher: Penguin Books Ltd
Publication Date: 27/01/2001
ISBN: 9780141184975
Other Formats
Hardback from £22.65
EPUB from £9.99
Free Home Delivery
on all orders
Pick up orders
from local bookshops
Reviews
Showing 1 - 3 of 3 reviews.
Review by thorold
16/06/2015
The three novels that make up Evelyn Waugh's Second World War trilogy were published between 1952 and 1962. It was conceived from the start as a single work, but over that period of ten years, his ideas about the structure and emphasis of the work as a whole inevitably shifted a bit. A couple of years after the publication of <i>Unconditional surrender</i>, he therefore produced a revised, single-volume version, tweaked to conceal the joins and to bring the earlier parts more in line with his plan. The result, published as <i>Sword of honour</i> in 1964, was his last substantial work. This was the form in which I first encountered the work, and I think it is the best way to read it. The changes were quite small, but very effective. However, for a long time it was practically unobtainable except as a library book &amp;mdash; Penguin didn't take it up, but carried on publishing the three component novels (singly or bound together). The first new edition of the revised single-volume work only appeared in 1999.Waugh was a brilliant writer, of course, and he's at his most effective here. I've read this four or five times (in one piece and separately), yet I pick up something new out of it each time. The narrative is pared down to an absolute minimum : no gratuitous jokes, no blind satire, none of the lush patches that make <i>Brideshead</i> so delightfully awful. Everything is doing its job to advance the narrative: the characters are real individuals, not caricatures, and are always treated with sympathy, even when they are supposed to be hateful. There is &amp;mdash; of course &amp;mdash; a good deal of Waugh's prejudice against the modern world, the middle classes, women, the RAF, secularism, experimental literature, radio, and political ideas anywhere to the left of the <i>Daily Telegraph</i>; there is some anti-communist paranoia. But he never descends to the level of crude invective: his scorn is always reasoned, even if the reasoning would not make sense to anyone outside the mental universe of Combe Florey. In his foreword, Waugh claims that he's writing a history of the decline of the English Recusant families (i.e. aristocrats who maintained the Roman Catholic tradition in England despite the Reformation), but of course he must know that the reader doesn't care tuppence about Popish landowners. What it really seems to be about is Waugh's Christian conviction of the absolute centrality of individual redemption. Crouchback looks for redemption in leading men into battle against the forces of evil, in the spirit of his Crusader ancestors; needless to say this doesn't work out as he hoped, but nonetheless, he does seem to find redemption of a sort elsewhere. Virginia is a kind of Magdalene figure, redeemed by giving love &amp;mdash; it says something about Waugh that the most sympathetic female main character in all his books is essentially a whore &amp;mdash; even Ludovic is permitted a certain kind of redemption, by reaching beyond his fake intellectualism to write a "trashy" novel that sounds suspiciously like <i>Brideshead</i>. Despite this theological seriousness, Waugh never loses sight of the absurd, comic side of life, even in the darkest days of war. This is the novel of Apthorpe's thunderbox and Ben Ritchie-Hook's biffing, of the explosive Laird of Mugg and &amp;mdash; above all &amp;mdash; of the endless ramifications of army paperwork, with its Security departments so secret that they never report the results of their investigations to anyone.
Review by Ann_V_Roberts
16/06/2015
Of all Evelyn Waugh's novels, the Sword of Honour trilogy - Men at Arms, Officers & Gentlemen, and Unconditional Surrender - amused me the most. No doubt based on Waugh's personal experiences in WW2, he makes Guy Crouchback so human and fallible, and his fellow-soldiers with all their idiosyncrasies so very funny, I kept laughing out loud.
Review by nigeyb
16/06/2015
Through Guy Crouchback, the detached observer and would be knight, who thought his private honour would be satisfied by war, Evelyn Waugh perfectly captures the bureaucracy, pettiness, absurdity, humour, and confusion of war. It all rings true with numerous little details that make this book so satisfying. It's everything that great literature should be - beautifully written, evocative. poignant, funny, tragic and profound.I wonder how many of the great characters are also based on real people. I really want Jumbo Trotter, Apthorpe, Ludovic, Box-Bender, Trimmer Virginia, Peregrine, and - of course - Brigadier Ritchie-Hook to be real characters, as I do, the denizens of Bellamy's club.In April 2013, I finally read Brideshead Revisited and was captivated from start to finish. You probably don't me to tell you it's a masterpiece. Before embarking on Sword of Honour, I would never have believed that Evelyn Waugh could have written two masterpieces. He has. Brideshead Revisited and Sword of Honour. That's in addition to all the other wonderful fiction and non-fiction. Epic and extraordinary. You really should read Sword of Honour. A wonderful book. 5/5NOTE ABOUT DIFFERENT EDITIONS:Sword of Honour was originally published as three separate volumes Men At Arms (1952), Officers and Gentlemen (1955), and Unconditional Surrender 1961, however Waugh extensively revised these books to create a one-volume version "Sword of Honour" in 1965, and it is this version that Waugh wanted people to read. The Penguin Classics version of "Sword of Honour", contains numerous informative and interesting footnotes and an introduction by Angus Calder, each time Waugh changed the text there was a note. Most of these are notes about sections that Waugh has removed with a view to ensuring that his "hero" Guy Crouchback is perceived as more worldly and experienced than was the case in the original version of the books. I can see why Waugh would choose to change the emphasis in this way and I think it makes the overall narrative more convincing and effective.
Also in the Penguin Modern Classics series | View all