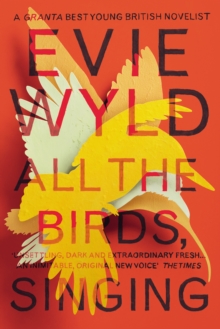 All the Birds, Singing
Paperback
Description
Jake Whyte is the sole resident of an old farmhouse on an unnamed British island, a place of ceaseless rains and battering winds.
It's just her, her untamed companion, Dog, and a flock of sheep.
Which is how she wanted it to be. But something is coming for the sheep - every few nights it picks one off, leaves it in rags. It could be anything. There are foxes in the woods, a strange boy and a strange man, rumours of an obscure, formidable beast. And there is Jake's unknown past, perhaps breaking into the present, a story hidden thousands of miles away and years ago, in a landscape of different colour and sound, a story held in the scars that stripe her back. Winner of the Miles Franklin AwardWinner of the Encore AwardWinner of the Jerwood Fiction Uncovered AwardShortlisted for the Costa Novel PrizeShortlisted for the James Tait Black Memorial PrizeLonglisted for the Bailey's Women's Prize for Fiction
Information
Format: Paperback
Pages: 240 pages
Publisher: Vintage Publishing
Publication Date: 15/05/2014
ISBN: 9780099572374
Free Home Delivery
on all orders
Pick up orders
from local bookshops
Reviews
Showing 1 - 3 of 3 reviews.
Review by alexbolding
16/06/2015
Wonderful, concise, suspenseful little novel that alternates two story lines, the first going back in time, the other progressing towards an open end. MIND! SPOILERS!!The main protagonist is a scarred Australian young woman, who farms sheep on some wind, and rain, swept British isle. In the parallel storyline we get to know her history, backwards in time, starting with her flight from 'captivity' by a lonely 'uncle' who obviously abuses her, going back to her life as teenage prostitute who settles in with her best customer (the uncle), going back to the reason why her back is completely ravaged, namely the collective village punishment inflicted on her by whiplash for the fire she set in motion out of spite for a relationship between her best looking male classmate and the queen of the village (the latter dies in the fire; the former is seriously burned in it). Only by the end the reader gets to know the reason for her wounds/scars and her emotionally aberrant behaviour. The sheep farmer woman acts completely isolated from the British isle community and is only able to establish a relationship with her dog, named Dog. One by one her sheep get killed by some mysterious being, she thinks… Though initially the suspicions are directed at (1) some village youth that hang out around her farm and obviously hate her; (2) a mother fox with cubs; (3) later on, the deranged son of the neighbouring sheep farmer briefly becomes the object of suspicion…. But in the end it is some kind of murky monster that is responsible for the killings, our protagonist thinks. Meanwhile another deranged person shores up in her sheep shed, a gay man called Lloyd, from London, who carries the ashes of his deceased partner/father (?) with him during a pilgrimage around the British isles, spreading the ashes in four corners. This is the third corner… but…. He doesn't know which ritual to apply this time. Despite their obvious, mutual dislike, the two hit it off, and in the end it is Lloyd who is the more sensible man by opting to believe the monster theory proposed by the protagonist…. What makes this novel superb? The sparse prose, short sentences, active I form. The double narrative and reversal in time. The suspense thus created by going back in time – the reader wants to get to the bottom of two things (1) why is the protagonist deranged and scared of fellow people? (suspicions are that she was sexually abused as a kid by her father – not so…); (2) who or what is responsible for the mysterious sheep killings (monster? No! in the end only the protagonist can have done it… during her nightly nightmares and bouts of hysteria). What a talent! Small wonder David Vann calls her a star writer (same morbid interests, bloody killings, and thriller like suspense…)
Review by alexrichman
27/08/2015
A novel teeming with nature and nasty people. The protagonist, at once supremely tough and deeply vulnerable, reminded me of Eimar McBride's half-formed girl but while that book lurches forward this spools backwards, with secrets unfolding slowly but satisfactorily.
Review by bodachliath
27/01/2016
A spare, gripping story of an Australian sheep farmer struggling alone dealing with hostile locals and something that is killing her sheep on a British island, and her troubled past in Australia. The structure is interesting - the British part of the story is told conventionally and chronologically, interleaved with the Australian story in which the chapters appear in reverse order, most recent first. This allows the tension in both parts to be maximised. An impressive if occasionally melodramatic page turner.