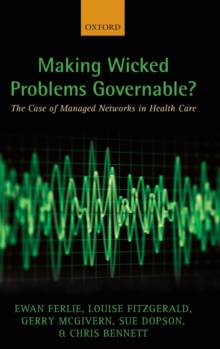 Making Wicked Problems Governable? : The Case of Managed Networks in Health Care
Hardback
Description
Over the last thirty years, scholars of health care organizations have been searching for concepts and images to illuminate their underlying, and shifting, modes of organizing.
Nowhere has this controversy been more intense than in the United Kingdom, given the long succession of top down reorganizations within the National Health Service (NHS) over the last thirty years.
This book characterises the nature of key reforms - namely managed networks - introduced in theUK National Health Service during the New Labour period (1997-2010), combining rich empirical case material of such managed networks drawn from different health policy arenas (clinical genetics, cancer networks, sexual health networks, and long term care) with a theoretically informed analysis. The book makes three key contributions. Firstly, it argues that New Labour's reforms included an important network element consistent with underlying network governance ideas, specifying conditions of 'success' for these managed networks and exploring how much progress was empirically evident.
Secondly, in order to conceptualise many of the complex health policy arenas studied, the book uses the concept of 'wicked problems': problematic situations with no obvious solutions, whose scope goesbeyond any one agency, often with conflicting stakeholder interests, where there are major social and behavioural dimensions to be considered alongside clinical considerations.
Thirdly, it makes a contribution to the expanding Foucauldian and governmentality-based literature on health careorganizations, by retheorising organizational processes and policy developments which do not fit either professional dominance or NPM models from a governmentality perspective.
From the empirical evidence gathered, the book argues that managed networks (as opposed to alternative governance modes of hierarchy or markets) may well be the most suitable governance mode in those many and expanding policy arenas characterised by 'wicked problems', and should be given more time to develop and reach their potential.
Information
Format: Hardback
Pages: 300 pages
Publisher: Oxford University Press
Publication Date: 14/03/2013
Category: Public administration
ISBN: 9780199603015
Free Home Delivery
on all orders
Pick up orders
from local bookshops