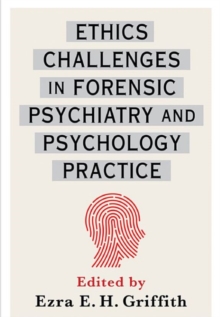 Ethics Challenges in Forensic Psychiatry and Psychology Practice
Hardback
Description
Forensic psychiatry and psychology involve specialized practice with unique patients, including children, the incarcerated, and involuntary clients, presenting practitioners with specific ethics challenges.
In this volume, Ezra E. H. Griffith offers a selection of engaging essays that guide practicing forensic specialists through particular situations that often result in ethics dilemmas. In chapters covering topics such as forensic practice and critical feminist theory, neuroethics in court, work with asylum applicants, and ethics problems presented by the internet, the contributors demonstrate methods to help practitioners resolve problems that they are likely to encounter in forensic practice.
The concentrated focus on thinking through ethics quandaries encourages forensic practitioners to reflect regularly on the ethics dimensions of their work and provides them with the tools to create ethics-based solutions that are transparent and understandable and best serve their clients.
This essential book provides a roadmap for specialists in these evolving fields to recognize dilemmas through reflection and consideration, thoughtfully articulate the problems, and create solutions.
Information
Format: Hardback
Pages: 376 pages
Publisher: Columbia University Press
Publication Date: 06/03/2018
Category: Psychological methodology
ISBN: 9780231183307