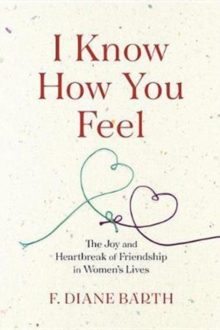 I Know How You Feel : The Joy and Heartbreak of Friendship in Women?s Lives
Hardback
Description
The Joy and Heartbreak of Friendship in Womens Lives.
Do I have enough friends? Why did my friendship end? and What makes a good friendship work? These are questions that F. Diane Barth, a psychotherapist widely recognised for her expertise in womens relationships, fields all the time.
In I Know How You Feel, she draws out engaging stories from a lively and diverse cast of women, many of whom speak about feelings they havent shared before.
She explores how life changes affect womens friendships in subtle and not-so-subtle ways.
Interweaving examples from classic womens literature to chick flicks, she provides grounded advice