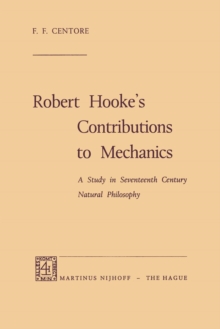 Robert Hooke's Contributions to Mechanics : A Study in Seventeenth Century Natural Philosophy
Paperback / softback
Description
In the history of science and philosophy and the philosophy of nature the name Robert Hooke has been largely ignored.
If he is occasionally men- tioned, it is usually in one of two ways: either he is briefly referred to in passing, or, he is viewed through the eyes of some later giant in the history of science and philosophy such as Sir Isaac Newton.
Both approaches, however, do Hooke an injustice. Tn the academic world of today, there is no scholarly study available of Hooke's actual place in the history of science and philosophy with respect to his doctrines and accomplishments within the area of mechanics.
Such a situation constitutes an unfortunate lacuna in the academic life of the world in our time.
It is the more unfortunate because, in his time, Robert Hooke played an important role in the intellectual life of his world.
Hooke, a contemporary of Boyle and Newton, lived from 1635 to 1703.
For most of his active intellectual life he held the position of Curator of Experiments to the Royal Society of London.
As a result of his own initi- ative and of directives given him by other members of the Society, Hooke performed hundreds of experiments designed to explore the secrets of na- ture so that men might better understand God's creation.
In this treatise I will disengage from the large disorganized welter of monographs and trea- tises left by Hooke all the material pertinent to the science of mechanics.
Information
Format: Paperback / softback
Pages: 135 pages, 135 p.
Publisher: Springer
Publication Date: 01/01/1970
Category: Philosophy
ISBN: 9789401186339
Other Formats
PDF from £67.58
Paperback / softback from £65.65
Free Home Delivery
on all orders
Pick up orders
from local bookshops