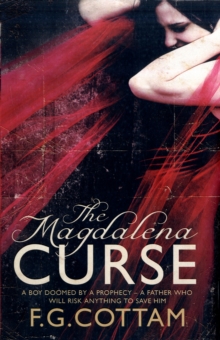 The Magdalena Curse
Hardback
Description
It only takes a couple of visits to convince Dr Elizabeth Bancroft that Adam Hunter is not just having bad dreams.
He's a child possessed. His father is desperate: adamant that his son's affliction is the result of a curse he incurred in the depths of the Amazon, where a badly misguided military operation ended in a terrifying and macabre encounter.
There he met two women - one more bad than good, who placed the curse - and the other more good than bad, with whom any hope of saving his son resides.
Mark Hunter leaves the Scottish Highlands to beg help from the mysterious woman, leaving his son in the care of Elizabeth - who is about to discover there are equally dark secrets on their own doorstep. And in her blood...
Information
Format: Hardback
Pages: 336 pages
Publisher: Hodder & Stoughton General Division
Publication Date: 12/11/2009
ISBN: 9780340980989
Free Home Delivery
on all orders
Pick up orders
from local bookshops
Reviews
Showing 1 - 3 of 3 reviews.
Review by adpaton
16/06/2015
The horror story has constantly reinvented itself over the last couple of centuries, reaching its apogee in the early 20th Century when writers like M.R. James laid the blueprint for the classic English ghost story, and H.P. Lovecraft put the K into creepy. Writing very much in the great tradition, Cottam is a delight to read, the shivers rendered that much more eerie by the extreme elegance of his style. SAS Colonel Mark Hunter met two witches in Bolivia, one of whom cursed his progeny. Twelve years later he realizes his son is possessed and, leaving the boy in the care of the last in a long line of Scottish healers, Hunter goes in search of the women to have the curse lifted… As always, Cottam is wonderful and full of surprises
Review by djfifitrix
16/06/2015
I enjoyed The Magdalena Curse thoroughly, it was a great tale of sinister witchcraft, curses, posession and a father's unconditional love for his son. I was a little disappointed by the end though, it seemed as if Cottam had just run out of steam and couldn't think of a suitable explanation. I also was disappointed that he didn't explain thoroughly who or what exactly Mrs. Mallory was, what the magic was that kept her alive and the reason for the wolf being a familiar in witch-lore. There is a small explanation (well, Elizabeth's take on Mrs. Mallory's condition) at the end which proves to be correct, but it just wasnt enough for me to have a sinister being explained away in just a couple of sentences and an ending in just a few paragraphs. All that aside though, the premise was fantastic and I can't wait to read more of Cottam's work.
Review by bibliobeck
16/06/2015
Another masterly, menacing tale from Cottam. His tales are very different, but the running theme of people from another time (most noteably the 1930s) creeping into the present is once again a very successful technique for adding to the creepiness and subtle horror of the story. In fact Cottam is so good at this that he's beginning to give me a bit of a complex about that time period - the elegance of it somehow makes it all the more threatening. Despite a backdrop of magic and healing, characters exist in this book the like of which I've never come across before. I really am very taken with this author - he is a clever writer and sometimes unusually for the genre he is stylish and more than competant in the way he tells a story. My only complaint was that I found the ending a bit of a let down. Elliot is mentioned in The Magdelena Curse and I was reminded of the famous line... this is the way the (book) ends, not with a bang but a whimper. A shame really - I love subtle, quiet horror, but after such a tremendous build up I couldn't believe it was all over. As usual, the rest of the book more than made up for it; I always find Cottam very unsettling to read - which is exactly what I want from a master story teller of the macabre. I've already pre-ordered his next paperback! Highly recommended.