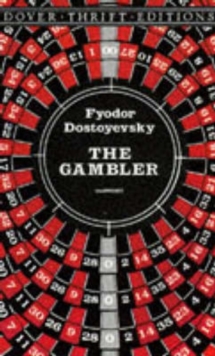 Information
Format: Paperback
Pages: 112 pages
Publisher: Dover Publications Inc.
Publication Date: 20/05/1996
Category: Classic fiction (pre c 1945)
ISBN: 9780486290812
Free Home Delivery
on all orders
Pick up orders
from local bookshops
Reviews
Showing 1 - 2 of 2 reviews.
Review by gbill
16/06/2015
There are many things to like about "The Gambler" (1866), which Dostoyevsky wrote simultaneously with "Crime and Punishment" and under great duress. He had lost his first wife, failed at business, and accumulated large debts gambling in Baden Baden, Germany; as with his other works the angst this produced led to raw, memorable fiction.At its highest level the novel is about the difficulty of controlling one's passions. This is seen in several characters and in a few different forms (women, money, and gambling); Dostoyevsky writes of these passions convincingly, particular the love/hate, obsessive relationship between the narrator and Polina ("When I talk to you I long to tell you everything, everything, everything." ... "I shall simply kill you because I have an impulse to devour you." .... "I often have an irresistible longing to beat you, to disfigure you, to strangle you.") The descriptions of "systems" to beat roulette are of course flawed by fascinating; Dostoyevsky also reflects the gambler's thought process and philosophy ("Why, what, what can they tell me that I do not know? And is that the point? The point is that - one turn of the wheel, and all will be changed, and those very moralists will be the first (I am convinced of that) to come up to congratulate me with friendly jests.").The character of Granny and her ups and downs in gambling are memorable. I also enjoyed insight into the Russian psyche, in particular, the struggle Russians had in the 19th century with their own identity, wanting to preserve Russia from bad Western influences but at the same time feeling inferior. ("Why am I to model myself upon our Russians here? They sit, not daring to open their lips, and almost ready to deny they are Russians." ... "The Russian is not only incapable of amassing capital, but dissipates it in a reckless and unseemly way." ... "The Russian abroad is sometimes too easily cowed, and is horribly afraid of what people will say, how they will look at him, and whether this or that will be the proper thing." ... and lastly, "Yes, you have destroyed yourself. You had some abilities, a lively disposition, and were not a bad fellow; you might have even been of service to your country, which is in such need of men, but - you will remain here, and your life is over. I don't blame you. To my mind all Russians are like that, or disposed to be like that. If it is not roulette it is something similar.")As a corollary to that, the culture clash with other nationalities at the spa town is interesting. This takes strongest form with the French, reflecting disdain, admiration, and envy at the same time ("De Grieux was like all Frenchmen; that is, gay and polite when necessary and profitable to be so, and insufferably tedious when the necessity to be gay and polite was over. ... The natural Frenchman is composed of the most plebeian, petty, ordinary practical sense - in fact, he is one of the most wearisome creatures in the world. In my opinion, only the innocent and inexperienced - especially Russian young ladies - are fascinated by Frenchmen." .... "The national type of Frenchman, or, rather, of Parisian, had been moulded into elegant forms while we were still bears."Final quote; on lawyers and arguing metal illness as a self-defense (yes it was happening then too):"Lawyers have taken to arguing in criminal cases that their clients were not responsible at the moment of their crime, and that it was a form of disease. 'He killed him,' they say, 'and has not memory of it.' And only imagine, General, the medical authorities support them - and actually maintain that there are illnesses, temporary aberrations in which a man scarcely remembers anything..."
Review by varwenea
16/06/2015
I feel a little cheated by this book. The back cover states the book "offers a grim and psychologically probing picture of the fatal attractions of gambling." For such a small book, I expected a quick deep dive into the throes of gambling sooner than later, becoming lost in all its negativity from start to end. Not quite. The book begins with a somewhat whiny Alexey Ivanovitch, a trilingual tutor for a formerly wealthy Russian General, playing roulette for the first time because his unrequited love (we are led to believe), Polina Alexandrovna, stepdaughter of the general, asked him to play for her and to win. He notes the gentlemanly way of winning, and more importantly losing. "A real gentleman should not show excitement even if he loses his whole fortune. Money ought to be so much below his gentlemanly dignity as to be scarcely worth noticing." But the control of gambling creeps in unconsciously. Alexey notes, "… I ought to have gone away, but a strange sensation rose up in me, a sort of defiance of fate, a desire to challenge it, to put out my tongue at it. I laid down the largest stake allowed – four thousand guldens – and lost it." Alexey isn't the only love sick puppy in the book. The General pines for Mlle. Blanche, who is willing to marry the General because of his title, pension, and pending inheritance from his Aunt Antonida – "Granny". The General's lovesickness provided some of the humor, crying for his love and soothed like a baby. There's also a Mr. Astley, a wealthy Englishman, who desires Polina and becomes her confidante. Granny was by far the best character. Direct and cantankerous, her mind is sharp and she sees people clearly. Through his characters, Dostoyevsky doled out the perspectives of Russians and the cultural stereotypes from the early 1800's. The Poles are the leeches that hang about the gambling table, making unwanted suggestions and awaiting opportunities to steal winnings. The Jews are the shrewd, advising the winning gamblers to get up and leave – before they lose it all. I quinched a bit reading these repeated negative stereotypes, reminding myself it's normal back then. On Russians and On Frenchman: "Why, am I to model myself upon our Russians here? They sit, not daring to open their lips, and almost ready to deny they are Russians." "A Frenchman is not often naturally polite. He is always polite, as it were, to order, with a motive. If he sees the necessity for being fantastic, original, a little out of the ordinary, then his freakishness is most stupid and unnatural, and is made up of accepted and long-vulgarized traditions. The natural Frenchman is composed of the most plebeian, petty, ordinary practical sense…"If I were to expand the definition of gambling (and its implied addiction) beyond money onto love and life, then Dostoyevsky tells a much more interesting story. Alexey exhibits a callousness towards love and life. (hmm, perhaps that's the whole point of gambling addiction.) Does one declare love with the following?To Polina: "You are hateful to me, just because I've allowed you to take such liberties, and even more hateful because you are so necessary to me."And "…I answered for the hundredth time that I hated her. Yes, she was hateful to me. There were moments (on every occasion at the end of our talks) when I would have given my life to strangle her! I swear if it had been possible on the spot to plunge a sharp knife in her bosom, I believe I should have snatched it up with relish…" Mr. Astley summed up gambling the best – to Alexey: "You have not only given up life, all your interests, private and public, the duties of a man and a citizen, your friends (and you really had friends) – you have not only given up your objects, such as they were, all but gambling – you have even given up your memories. I remember you at an intense and ardent moment of your life; but I am sure you have forgotten all the best feelings you had then; your dreams, your most genuine desires now do not rise above pair, impair, rouge, noir, the twelve middle numbers, and so on, I am sure!"All in all, not bad.
Also in the Dover Thrift Editions series | View all