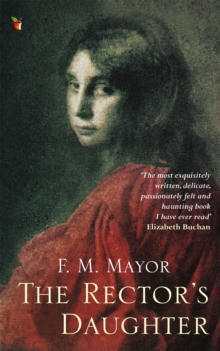 The Rector's Daughter
Paperback
Description
Dedmayne Rectory is quietly decaying, its striped chintz and darkened rooms are a bastion of outmoded Victorian values. Here Mary has spent thirty-five years, devoting herself to her sister, now dead, and to her father, Canon Jocelyn. Although she is pitied by her neighbours for this muted existence, Mary is content. But when she meets Robert Herbert, Mary's ease is destroyed and years of suppressed emotion surface through her desire for him. First published in 1924 this novel is an impressive exploration of Mary's relationship with her father, of her need for Robert and the way in which, through each, she comes to a clearer understanding of love.
Information
Format: Paperback
Pages: 368 pages
Publisher: Little, Brown Book Group
Publication Date: 10/08/1987
ISBN: 9780860689119
Free Home Delivery
on all orders
Pick up orders
from local bookshops
Reviews
Showing 1 - 5 of 5 reviews.
Review by irishwasherwoman
16/06/2015
This is as much a story about the transition of one age (Victorian) to another (20th Century) as it is a love story and a late coming of age story. Mary Jocelyn, the daughter of an aged and reserved rector, longs for love and in particular that of Victorian rector married to a modern woman. It seems that her entire life is defined by the manners, feelings, and perception of others. Only when she is finally free of her childhood home, does Mary come into her own and become appreciated for her own person, despite being haunted by a love that could have been. A very interesting read, despite a very frustrating heroine.
Review by DieFledermaus
16/06/2015
I did enjoy this book despite some melodramatic plot turns and the fact that I wasn't all that into what should have been the main relationship that drove the plot – Mary's unfulfilled love of Mr. Herbert. I found her relationship with her father and friends more interesting as well as Mr. Herbert's rocky marriage. Mary Jocelyn is the title character – a sweet, dutiful, seemingly insignificant woman living with her intellectual, distant father, Canon Jocelyn. Her life has been spent caring for her father and invalid sister who finally dies at the start of the novel. The author doesn't immediately jump into her romantic difficulties, but creates a realistic portrait of their life at the decaying but quirky rectory and Mary's relationship with her father, the village people and her best friend Dora. Mary is not the kind of character to appeal to modern tastes – while many 19th/early 20th c books deal with long-unmarried women, the main characters tend to be rather more intellectual, witty or lively than Mary. Mary is a bit of a pushover, but one can see how she got to be that way, given her isolated life, where the only acceptable things for her to do were to take care of the family and do good works. However, Mary does show occasional flashes of intense emotion – a contrast to many of the characters. Though she outwardly appears dull and placid, on occasion she becomes extremely emotional and needy. Even Dora is discomfited by some of her behavior. But while Dora has a busy, happy family life with a number of spinster sisters, all with their own projects and hobbies, Mary is alone and mutely wishing her father would be more demonstrative. Canon Jocelyn is as isolated as Mary, but he is naturally reserved, while it's been forced on her. He also has the consolation of his books and work. Although Mary has her own writing, she was initially discouraged by her father, later by others as well. Both are enlivened by the arrival of Mr. Herbert, the son of a family friend. Mary falls in love with Mr. Herbert, who at first returns her feelings, but then suddenly announces he's marrying another woman. At first Kathy comes across as the snotty "other woman", but the author soon switches from Mary's problems to focus on the Herberts' conflicted marriage. While Kathy has a number of flaws, I actually found Mr. Herbert much less sympathetic. Obviously, he did the quick ditching of Mary for Kathy and, it seems, for rather superficial reasons – Mary is constantly described in personality and temperament as being his perfect match, but Kathy is very attractive. So it does make him seem cruel and shallow – though the author describes him as more likely swept away by emotion. But she notes that his love for Kathy was only a short-lived infatuation and after that, he starts treating her coldly. Their relationship mirrors that of Mary and her father – the older man who withholds affection from a younger woman who loves him – but Kathy does not behave at all like Mary. Also, the author makes it clear that Canon Jocelyn did love Mary – sometimes in a distracted, taking-her-for-granted way – while one point Mr. Herbert only sees Kathy as a mistake and a burden. Canon Jocelyn does make an effort after Mary finds out about Mr. Herbert's engagement – minimal as it is (he substitutes "and" for "but" and actually says that he does care – hesitantly) – but at one point when Kathy tried to make things up with her husband, he repulsed her and later decided it wasn't worth it, because they would just fight again.Kathy does a lot of small and large bad things – too much use of slang, which irritates her husband nonstop, laughing in church, mocking him with her bad-influence friends – but she also has some appealing qualities. Unlike the stuck-in-the-19th-century attitudes of many of the characters, Kathy is tolerant and forgiving. She also has a lot of behaviors that modern readers might find more recognizable than the reserve or coldness of Canon Jocelyn, Mary and Mr. Herbert. She tends to make jokes and laugh it off when she's really in pain, which leads Mary and Mr. Herbert to think she's shallow – but that is quite common today. She also refuses to let others pity her – after Kathy suffers a personal tragedy, she doesn't want it sympathetically mentioned at all – an attitude at odds with the normal village behavior. Also, while Kathy gets a lot of criticism from her husband, her mother in law, Mary (in her mind) and some of the townspeople, Mr. Herbert pretty much gets off without censure. Yes, he criticizes himself in his mind – but it comes close to whining. Also, for a while he keeps waffling between Kathy and Mary, unpredictably doling out love and indifference. After a certain point in his relationship with Kathy, he's sort of being a hypocrite. You can't control your emotions, but his treatment of his wife after he fell out of love with her was pretty bad. Even worse for her – it happened the way she had worried about before they were engaged. She initially rejected him, saying he was too good for her – she being rather flighty and more concerned with hanging out with rich people – and that he wouldn't love her once he really got to know her. Everyone else worried that he was too old for her and set in his ways. Both did turn out to be true. In that section, Mr. Herbert comes off like some older, repressive husband from a Victorian novel. The way he treated her in the end was also quite cruel. He did have timing problems.Quite enjoyed the author's character development. There were a number of plot points that were overly convenient and on occasion there were some heavy doses of melodrama. Really fast read though.
Review by Kasthu
16/06/2015
Mary Jocelyn is the middle-aged daughter of an elderly clergyman, who has spent all her life in Dedmayne, a quiet English village. The arrival of Mr. Herbert, son of an old friend of Canon Jocelyn's, brings much excitement for Mary, who falls in love with him. But life is much more complicated than that, and Mr. Hebert marries Kathy, a younger woman who is Mary's polar opposite.FM Mayor novel is character-driven rather than plot-driven. It seems as though all her life, Mary has been waiting for something—anything to happen to her. Her life at the vicarage in Dedmayne, severely curtailed by her father, is constricting. And yet Mary spends most of this novel (covering a period of about ten years) letting things happen to her. I found it very hard to like Mary at times, considering she's not really an active participant in what goes on in this novel. She's not like her friend Dora, a really engaging spinster who's embraced her unmarried status with perhaps a little too much gusto. It seems as though Mary wastes her whole life catering to the needs of other people, rather than doing things for herself. And yet, there's a quiet passion about Mary, a desire in her to see more of the world.The book also highlights the contrast between two generations: one of the late Victorian period, the other of the early 20th century. Although the book takes place presumably at the time it was written (1920s), the feel of the novel is very Victorian, and it may have something to do with the more or less repressed Canon Jocelyn, unable to express the way he truly feels. Mary is stuck between the two generations, unable to escape the confines of her own narrow world. It was very hard for me to understand why Mr. Herbert does a 180 in regards to his feelings for Mary; it made me dislike him all the more for being shallow. Still, FM Mayor really gets to the heart of her characters' emotions (or lack thereof). Susan Hill put this book on her list of 40 books she'd take to a desert island. While I enjoyed this for the most part, this isn't that kind of book for me. But it's still very good.
Review by hazelk
16/06/2015
I heard about this novel on BBC Radio4's 'A Good Read'.Written in the 1920s, it's set in the early years of that century and mostly in a village in East Anglia. Mary, the daughter, is already in her mid-30s, plain, and aware that life and love is passing her by.Her elderly father with whom she lives is learned but distant, one of the old school as the author points out: in outlook and manners he belongs to the upper middle classes of a previous generation.The novel doesn't go on a predictable path. I expected the father to be the one who ruins the one chance Mary has ....(musn't spoil) but no it isn't. And then, just as you think later on that another opportuniy of happiness is imminent, another twist.What makes this novel something out of the ordinary is the acute social observation whether of the county set, the bohemian set that Mary comes across briefly in London, and the rather restricted lives of women of various ages and circumstances. Mary is perceptive, self-aware and someone I warmed to.There are some lines clunkilly written but on the whole it was 'a good read' and deservedly a Virago Modern Classic.
Review by otterpopmusic
16/06/2015
If you already have a low opinion of Victorian-era clergymen, this book will not change your mind.
Also in the Virago Modern Classics series | View all