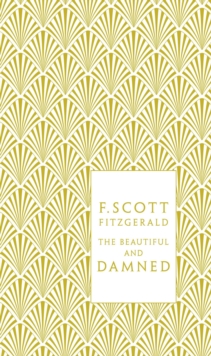 The Beautiful and Damned
Hardback
Description
These sumptuous new hardback editions mark the 70th anniversary of Fitzgerald's death.Anthony and Gloria are the essence of Jazz Age glamour.
A brilliant and magnetic couple, they fling themselves at life with an energy that is thrilling.
New York is a playground where they dance and drink for days on end.
Their marriage is a passionate theatrical performance; they are young, rich, alive and lovely and they intend to inherit the earth.But as money becomes tight, their marriage becomes impossible. And with their inheritance still distant, Anthony and Gloria must grow up and face reality; they may be beautiful but they are also damned.
Information
Format: Hardback
Pages: 384 pages
Publisher: Penguin Books Ltd
Publication Date: 04/11/2010
Category: Classic fiction (pre c 1945)
ISBN: 9780141194073
Other Formats
Paperback from £2.50
Hardback from £8.35
Mixed media product from £26.89
EPUB from £0.99
PDF from £1.94
eAudiobook MP3 from £19.28
Free Home Delivery
on all orders
Pick up orders
from local bookshops
Reviews
Showing 1 - 1 of 1 reviews.
Review by BayardUS
16/06/2015
F. Scott Fitzgerald is an interesting and problematic writer for me. The Great Gatsby (which FSF wanted to call "Under the Red, White and Blue") is a great book, that not only features stellar writing and compelling characters, but that managed to capture the ethos of an entire age. All of the glitz, glamour, and greed of roaring 20s New York is encapsulated in that work, and it's one of my favorites. In contrast, This Side of Paradise was so juvenile in both writing and sentiment that I had to drop it before I was half-way through. The Beautiful and Damned falls in between these two other works, without being remarkably good or remarkably bad. In fact, that's a good way to sum how I felt about The Beautiful and Damned: it was rather unremarkable. <br/><br/>Like This Side of Paradise, the writing here doesn't come off as fully matured. There are nice turns of phrase and descriptions sprinkled (rather conservatively) throughout the work, but oftentimes the writing struck me as something FSF thought was terribly clever, despite not being very substantive. An example is that at various points the book shifts form to that of a closet drama, with all the characters becoming parts in a play. The thing is, though, that FSF doesn't use this shift in form to do anything that he couldn't already do in the style of the rest of the book: FSF's dialogue is already very reminiscent of play dialogue, so making the format more play-like isn't at all memorable. There's a reason why we remember FSF today in connection with his books, and not in connection to his Hollywood writing career. <br/><br/>The subject matter of the book is likewise very immature. The two main characters, Anthony and Gloria, both unlikable for different reasons, putter about New York. They lounge away their days and they party through their nights, with both lamenting their (rather desirable) financial situation but with neither doing anything about it. Eventually something happens that's the equivalent of them not winning the lottery due to their own incompetence, and this turn is interpreted by them both as a tragedy that becomes the main factor driving the plot going forward. Anthony at one point goes to train for deployment in World War I, but the story makes that development all about him and fails to communicate what that experience was actually like. Not much happens in this book, and what does happen doesn't feel symbolic of society in the 20s like the action in The Great Gatsby did. When the book satirizes something, like the dating process in the 20s, it feels more like FSF did it by accident. The end of the story tries to recast this tale as one about the harmful nature of pride and stubbornness, but the problems of Anthony and Gloria are clearly stem from laziness and a mental inability to do anything but lounge and party- the story is more tied to the sins of sloth and avarice, so the ending pretending that it's about something else felt strange. Also abrupt. Finally, toward the end, FSF gives a shout out to his own book This Side of Paradise, an action that always makes me cringe.<br/><br/>It sounds terrible to say, but I think The Beautiful and Damned stands for the proposition that FSF had to go through some real pain and tragedy in order to evolve as a writer, with this work predating that occurrence. Like This Side of Paradise, this book felt immature in writing and subject matter, though not quite to the same degree. Once FSF experienced some actual hardship, I'm betting he was better able to craft an effective text, and because of this I'm adding Tender is the Night to my to-read pile. Unfortunately Fitzgerald's work predating Gatsby has all proven lackluster to me, but I'm hopeful that is last work realizes his potential as a writer- otherwise I'll be forced to consider Gatsby a fluke.
Also in the Penguin F Scott Fitzgerald Hardback Collection series | View all