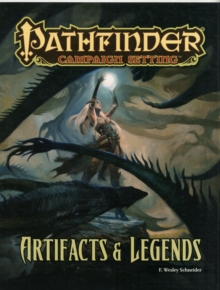 Pathfinder Campaign Setting: Artifacts and Legends
Paperback / softback
Description
Reveal the godlike powers and secret history of Golarion's mostincredible treasures with Pathfinder Campaign Setting: Artifacts andLegends.
Relics from across the Pathfinder Campaign Setting -like the Book of the Damned, Relics of Kazavon, and Seven Swords of Sin -join artifacts of RPG legend - like the Axe of the Dwarvish Lords, Codexof the Infinite Planes, the Dancing Hut of Baba Yaga, and Orbs of Dragonkind- in this collection of dozens of the ultimate weapons, magical creations,life-changers, and world-enders of the Pathfinder Roleplaying Game.
Eachartifact includes its mythic history, methods of destruction to test even themost powerful heroes, and the world-shaping ramifications of including each inyour campaign.
Claim the tools of the gods with Pathfinder Campaign Setting:Artifacts and Legends!
Information
Format: Paperback / softback
Pages: 64 pages
Publisher: Paizo Publishing, LLC
Publication Date: 23/10/2012
Category: Indoor games
ISBN: 9781601254580
Free Home Delivery
on all orders
Pick up orders
from local bookshops