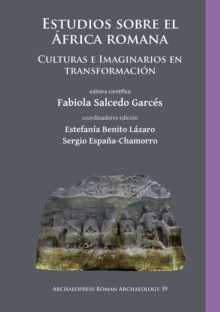 Estudios sobre el Africa romana : Culturas e Imaginarios en transformacion
Paperback / softback
Description
This collective work, carried out by both senior and beginning researchers, is for those scholars who have their gaze fixed on the fascinating mosaic of cultures that was the North-African world from the moment Rome appeared in the region.
Even before this date, the arrival of Phoenicians on the continent and their subsequent spread throughout the north of it, initiated a rich process of contacts, interchanges and relations with the Libyan-Berber populations that inhabited the zone from time immemorial.
To this scene of ancient cultural diversity -which also included an Egyptian component- Rome brought its own riches, generating in the region new episodes of cultural and religious syncretism.
All these subjects are treated in the present book through some specific scientific contributions whose geopolitical frame is the whole Proconsular Africa.
Most of the articles in this volume are dedicated to the world of images, but others also treat many other issues as Historiography, Archaeology of Architecture, Libyan-Berber ethnicities and even cultural parallels between North Africa and the Iberian Peninsula. | Esta obra colectiva, llevada a cabo por investigadores seniors y jovenes, va dirigida a aquellos estudiosos con la mirada puesta en el fascinante mosaico de culturas que fue el mundo norteafricano cuando Roma hizo su aparicion en la region.
Ya antes de esa fecha, la llegada de fenicios al continente y su ulterior expansion por todo el norte del mismo abrio un rico proceso de contactos, intercambios y relacion con los pueblos libico-bereberes que habitaban en la zona desde tiempos que se pierden en la memoria.
A ese escenario de diversidad cultural milenaria -en el que no hay que excluir el componente egipcio- se incorporo Roma llevando consigo su propia riqueza ancestral, producto, a su vez, del crisol cultural del que habia nacido, generando asi, en la region, nuevos episodios de sincretismos culturales y religiosos.
Todos estos aspectos son los que se tratan en este volumen, a traves de un conjunto de aportaciones cientificas puntuales cuyo marco geopolitico comprende toda el Africa Proconsular.
Se ha prestado especial atencion al mundo de las imagenes, pero tambien se han abordado otros asuntos, como los relacionados con la Historiografia, la Arqueologia de la Arquitectura, las etnias libico-bereberes e incluso los paralelismos culturales entre el norte de Africa y la Peninsula Iberica.
Information
Format: Paperback / softback
Pages: 368 pages, Illustrated throughout in colour and black & white (55 colour plates)
Publisher: Archaeopress
Publication Date: 31/05/2018
Category: Archaeology by period / region
ISBN: 9781784919078
Free Home Delivery
on all orders
Pick up orders
from local bookshops
Also in the Archaeopress Roman Archaeology series | View all