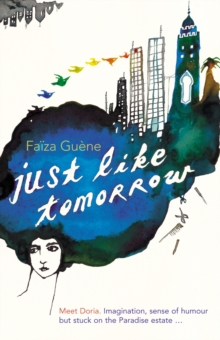 Just Like Tomorrow
Paperback
Description
Fifteen-year-old Doria isn't in a good place. Or to be precise: she's in the sadly misnamed Paradise Estate on the outskirts of Paris.
Her father has gone off back Morocco to find a wife who can give him a boy, and her illiterate, non French speaking mother has to fend for herself with a cleaning job in a grim motel.
What's more, her favourite soap star has turned out to be gay and it looks like the only school that is going to accept Doria is the one for future hairdressers.
Still, it could be worse: Doria could be like Samra, the girl in the flat above, whose father doesn't let her out, or Youssef who has been banged up for a year for dealing in drugs and stolen cars.
At least Hamoudi - twenty-eight and the coolest guy on the estate - is her friend. And at least she gets a free weekly session with psychologist Mrs Burland, who is about the only person who listens, even if she doesn't quite understand...In this brilliantly poignant and street-wise first novel, Faiza Guene has created an unforgettable voice.
Doria is both clued up and innocent, acutely aware of what's in store for her and powerless to change it.
She is funny, clever and tragically trapped. But in the end, her dogged determination not to be down-trodden and humiliated wins through and it looks like things can only get better.
Information
Format: Paperback
Pages: 192 pages
Publisher: Vintage Publishing
Publication Date: 04/05/2006
ISBN: 9780701179106
Free Home Delivery
on all orders
Pick up orders
from local bookshops
Reviews
Showing 1 - 2 of 2 reviews.
Review by akeela
16/06/2015
This (translated) debut novel was written by 19-year old French writer, Faiza Guene, of Algerian parentage. The protagonist is the delightful 15-year-old Doria who paints a vivid picture of life in the run-down high-rise area, north of Paris, populated by struggling immigrants from Morocco, Algeria and Tunisia. Doria's commentary reveals the many personal challenges she and her mum, as well as the other grappling individuals, face as immigrants in a foreign country. Her telling is matter-of-fact, but very engaging. It's touching and also quite funny. I enjoyed this read!
Review by LyzzyBee
16/06/2015
Aquired via BookCrossing 04 Sep 2009 - Not So Secret Stationery parcelThis was brilliant! A fresh young voice; the author is from the Parisian inner city which she describes so well, and the writing is funny, heartfelt and moving. The translation is great and not at all clunky. Doria is an Algerian living with her Mum in a seedy tower block. Around them are other Algerians and a great collection of characters, aunties, spoddy cousin types, a well-meaning counsellor, the evil boss at her Mum's place. Both Doria and Yasmina grow and change during the book, both learning new skills and ways to deal with life. Although the banlieus have been written about depressingly and have been the scenes of terrible clashes and riots, this is basically a life-affirming and positive book, while not skirting the more serious issues. I'd love to read more by this author.