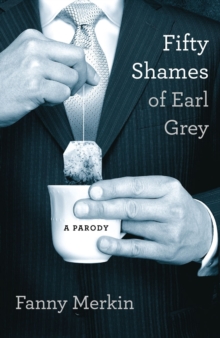 Fifty Shames of Earl Grey : A Parody
Paperback
Description
Inspired by the overnight million-copy bestseller Fifty Shades of Grey comes Fanny Merkin's shrewd, laugh-out-loud funny and romantic parody.
When naive college student Anna interviews the young handsome tycoon Earl Grey for Boardroom Hotties magazine, she finds herself drawn into his twisted world of, well, mostly naughty dialogue and light spanking.
Anna is enthralled - after all, he's rich and buys every company she's ever worked for in an attempt to get close to her.
Including Walmart. Though, on the flipside, he's a moody bastard whose 50 shames constantly threaten to overwhelm her.
Can Earl Grey and Anna ever have a normal life together? Or will his dark desires and constant smirking drive her over the edge?
From sparkling vampires to feminist concerns and BDSM, in Fifty Shames of Earl Grey Ms. Merkin passionately undresses popular culture, exposes the humour in our favourite contemporary fiction and plunges the depths of the desire to find our inner - erotic - goddess.
Information
Format: Paperback
Pages: 208 pages
Publisher: JR Books Ltd
Publication Date: 01/07/2012
Category: Adult & contemporary romance
ISBN: 9781907532504
Free Home Delivery
on all orders
Pick up orders
from local bookshops
Reviews
Showing 1 - 3 of 3 reviews.
Review by bishhy
16/06/2015
I'm gonna start right off and say that I didn't finish this book. I'm not big on comedy, although I do love witty comments and banter between the characters. I picked this book up because:1. I read a few reviews that said it was laugh-out-loud funny2. Because I needed a good laugh to cheer me upWell, let's just say that my "laugh-out-moments" were far and few in between. I'm thinking I didn't really enjoy this book because I didn't actually read Fifty Shades, but I did read Twilight and that was enough for me to go off of. The characters, well... If I could reach in and slap someone so hard that they would be knocked back into last week (mind you, I'm not a violent person) then it would have to be Anna Steal. Which makes me wonder, what would I think about Anastasia Steele from Fifty Shades? Meehh. I guess I won't know, as it is not on my TBR list. The funny factor in here just wasn't up to par for me. I felt like I was watching those godawful parody movies about Twilight (Vampires Suck and Breaking Wind). The funny got old fast. I didn't have my "knee-slapper" moment with this boo and that disappointed me. I wouldn't recommend this book. It just wasn't my cup of tea. No, Earl Grey, not even a cup of you.
Review by mt256
16/06/2015
50 Shames of Earl Grey is a silly book. Andrew Shaffer spoofs the very popular 50 Shades of Grey in this book. He doesn't hold back as he makes fun of both Twilight and 50 Shades. Nothing is off limits. I loved how ludicrous Earl Grey and Anna Steal are. Anna is so ridiculously naive it's a wonder she can walk. Earl Grey is overbearing and super sensitive. He's in to BDSM, but in his case it's Bards, Dragons, Sorcery, and Magick. That's a little . . . awkward. This book had some definite laugh out loud moments. If you have a sense of humor you'll enjoy this book.
Review by arlenadean
16/06/2015
Author: Fanny Merkin & Andrew ShafferPublished By: Da Capo Press Age Recommended: AdultReviewed By: Arlena DeanBlog For: GMTARating: 4Review: "Fifty Shames of Earl Grey" by Fanny Merkin and Andrew Shaffer was some interesting read that truly kept me laughing all the way through this hilarious novel. This was a definitely a story that I was found wondering just what craziness this author(s) would bring on next. Wow! It is my understanding that this is a parody in that these authors spoof of the very popular 50 Shades of Grey...where Mr. Earl Grey..was a corporate tycoon..a rich guy, that could buy anything..had his own secrets or his "Fifty Shames." Then there is Anna Steal, a naive college student and Walmart cashier who meets Earl Grey..well this is where I say you must pick up this read.."Fifty Shames of Earl Grey" and just maybe you will be smiling at some on this funny read. I know many will say this is a ridiculous read but just remember this is a parody and it is supposed to be funny..sort of like 'Airplane and Naked Gun.' These authors did a good job of taking these of the original book and completely creating other scenarios and these could only put a smile on your face. These authors did a good job of taking these of the original book and completely creating other scenarios and these could only put a smile on your face.If you are looking for a good novel that pokes fun in all the right places then pick up "Fifty Shames of Earl Grey" ....for I would recommend to you as a good read.