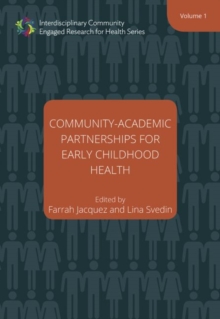 Community-Academic Partnerships for Early Childhood Health - Volume One
Hardback
Description
Community-Academic Partnerships for Early Childhood Health is the first in a seven-series volume that looks at participatory public health research studies conducted by scholar/community interdisciplinary teams.
In this volume, academics work together with local practitioners in their communities to address childhood health risks of underserved populations and the social factors of health and life-long wellbeing for children at risk.
The contributors present case studies that show how interdisciplinary community-based, scholarly research can increase the rigor of scientific research and improve data collection by assuring the validity of a study's design and allow for better data interpretation that is more in line with real-world experience.